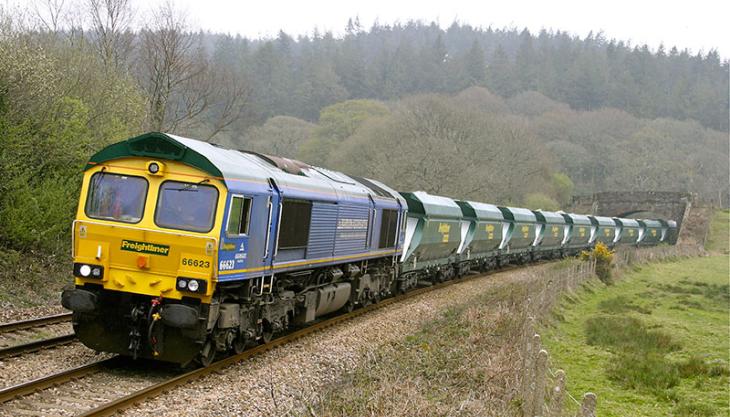 Rail Freight Group and Mineral Products Association set out five steps to develop UK rail freight logistics
WITH around 60 trains a day moving aggregates, sand, cement and other quarry products into the UK's towns and cities, rail freight is at the heart of construction logistics.
Over the last decade, the construction sector has been increasing its use of rail, reaching a record high in the last financial year, and industry forecasts suggest that further growth of around 2.5% per annum is likely as investment in infrastructure continues.
However, delivering this growth will require co-ordinated action and investment from the rail and construction sectors, which is why the Rail Freight Group (RFG) and the Mineral Products Association (MPA) have launched 'A Commitment to the Future' – a new joint initiative which sets out five steps that both organizations will take to develop rail the country's rail freight logistics. These are:
Improve the sustainability of construction logistics by encouraging modal shift and enhancing the safety and environmental performance of rail operations.
Aim to achieve a 20% average increase in the payload per train within the next five years.
Support development of the rail network and terminals so that major routes can routinely accommodate trains of 450m length, with 2,000 tonnes of payload.
Be responsible users of the network, working to improve performance, increase efficiency and optimize and safeguard network capacity.
Make rail freight the preferred solution for supplying major infrastructure schemes.
Maggie Simpson, executive director of the RFG, said: 'This important initiative brings together rail operators and their customers to set out a vision of how rail freight logistics can help to support the construction sector. Becoming more efficient, and by being more responsible users of the rail network we will help to leverage vital growth, keeping construction lorries off the roads and supporting our economy.'
Jerry McLaughlin, director of economics and public affairs with the MPA, said: 'We need to unlock the full potential of rail for transporting key materials such as aggregates and cement from production sites to construction markets, and to help ensure future national demands can be met. This commitment is a very positive and necessary step forward.'