New campaign aims to promote use of surface dressing as the solution to reducing potholes
A NEW campaign aimed at promoting the benefits of surface dressing as part of a proactive highways maintenance strategy has been launched by the Road Emulsion Association (REA) and the Road Surface Treatments Association (RSTA).
According to new RSTA guidance, surface dressing is one of the most carbon-efficient surface treatments. 
The RSTA report, 'Carbon Emissions for Road Surface and other Maintenance Treatments Report and Guidance', shows that surface dressing on a road only emits 0.715 (kgCO2e) per square metre.
Surface dressing uses up to 75% less bitumen and up to 80% less aggregate per square metre than thin surface (asphalt) courses.
The new campaign will say that the decline in the use of surface treatments represents a failure to leverage the advantages that such a planned preventative approach provides.
It will talk about the crucial role surface treatments, such as surface dressing, play in reversing the number of potholes forming in the future as well as the associated costs, which are rising year on year.
Through the appropriate planned application of such treatments prior to the development of serious surface and structural defects (such as potholes), road conditions can be managed and maintained far more effectively as well as road lifespans extended – potentially indefinitely, says the RSTA.
This provides significant cost benefits. Previous research from the Asphalt Industry Alliance (AIA) has shown that it is 20 times more expensive to carry out reactive maintenance (filling potholes) than planned, preventative maintenance.
According to the RSTA, surface dressing is the most cost-effective method, both financially and environmentally, to improve skid-resistance and seal the road surface, which will stop the ingress of water and help prevent potholes forming in the first place.
The campaign, which will also highlight how advances in technology are making the surface-dressing process more efficient and effective, will see REA and RSTA members present at various industry events around the UK and on webinars as well as providing resources for members. It also coincides with the launch of a new video that will highlight the benefits too.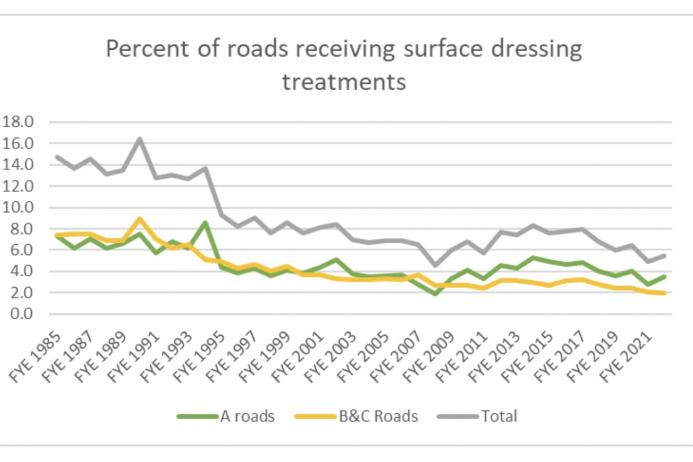 Paul Goosey, chair of the REA, said: 'It is no surprise to the REA that the decline in the application of surface dressing over the past 10 years has coincided a significant increase in the cost of pothole repairs over the same period. If the industry can reverse this decline in surface treatments such as surface dressing, then we can stop potholes forming in the first place and keep roads in better condition for longer.'
Paul Boss, chief executive of the RSTA, added: 'This is an important campaign that highlights the vital role that surface dressing plays in providing a cost-effective and carbon-efficient solution to the rising number of potholes on our roads in the UK.
'The RSTA's latest guidance for local and national highway authorities proves that surface treatments will be crucial in helping the highways sector to decarbonize and keep more roads in better condition for longer.'