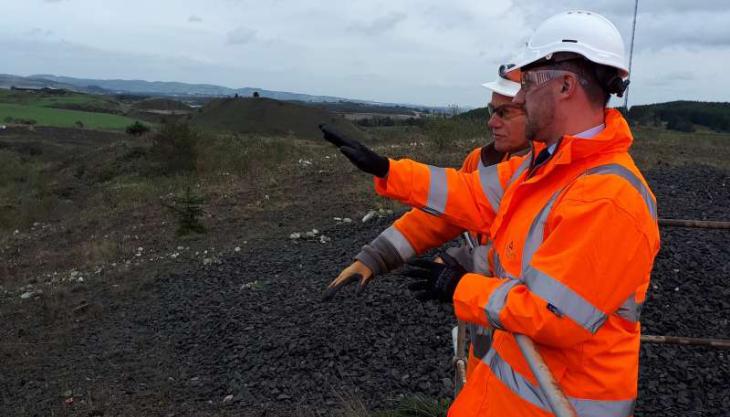 Neil Gray MP digs deeper into proposed community fund during visit to Aggregate Industries' Duntilland Quarry
NEIL Gray MP recently visited Aggregate Industries' Duntilland Quarry to discuss how a new community scheme funded by a tax on quarried material could help to deliver key conservation projects in the region.
Mr Gray, who has been MP for Airdrie & Shotts since 2015, visited the quarry near the village of Salsburgh, North Lanarkshire, to meet the operations team and tour the site.
The successful visit also involved an engaging discussion between Mr Gray and key Aggregate Industries staff on a range of important issues including potential infrastructure projects in Scotland and the Mineral Product Association's proposed Aggregates Levy Community Fund (ALCF).
Established in 2002, and set at a rate of £2.00 per tonne since 2009, the Aggregates Levy (AGL) was introduced by the Government to better reflect the environmental costs of quarrying and encourage the use of secondary and recycled construction materials.
Last year, the AGL generated £407 million in revenue for the Treasury. In proposals set out in February, the MPA said it would like to see 4% – approximately £18 million – of this figure allocated to fund local community, biodiversity and nature conservation projects.
Sandy Fullarton, quarry manager at Duntilland Quarry, said: 'We were delighted that Mr Gray was able to join us at our Duntilland site and see first-hand how the materials we produce supply many of the region's most high-profile construction projects.
'As a long-standing local business, we have a strong track record in supporting biodiversity and sustainability at our site. As such, by creating a local and national framework for funding vital community and conservations projects, we recognize the positive impact the proposed Aggregates Levy Community Fund could have on the area.'
Mr Gray added: 'I'd like to thank Aggregate Industries for inviting me to Duntilland Quarry, which provides a highly valuable contribution to the local community and the region's construction industry. The visit was a great success, with the discussions providing much food for thought on how we can work with aggregate suppliers to support local community projects.'