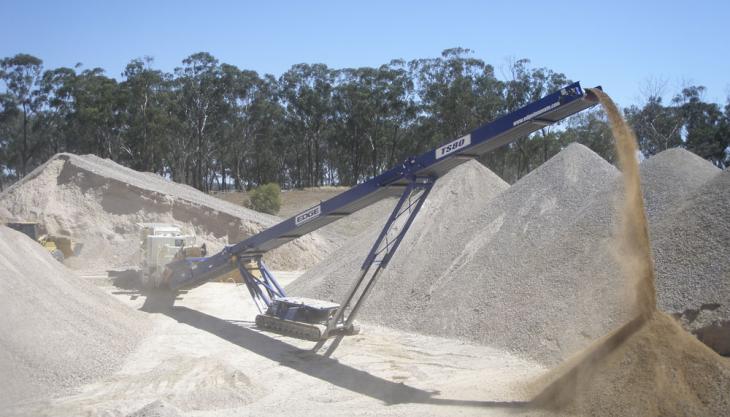 Northern Ireland-based materials handling equipment manufacturer appoints dealer in Southern Africa
EDGE Innovate, the Dungannon-based materials handling specialists, have appointed Pilot Crushtec International Ltd, southern Africa's leading supplier of materials processing and handling solutions, as exclusive dealers of EDGE equipment in the region of South Africa.
Pilot Crushtec will deliver the full EDGE portfolio of mobile stackers, tracked stackers, stockpilers, tracked feeders, trommels, shredders and picking stations to areas including Zimbabwe, Swaziland, Lesotho, Mozambique, Tanzania, Zambia, Malawi, Mauritius, Seychelles and the Democratic Republic of the Congo.
Commenting on the appointment, EDGE's managing director, Darragh Cullen, said: 'Pilot will have distribution rights for the entire EDGE product range. Southern Africa is an important part of our global strategic growth plans and we see this new partnership as a critical element in achieving our goals.
'Pilot Crushtec is a professional and successful distributor in our sector. Their focus on the customer in terms of after-sales and support match the ethos of our own organization. With an aggressive product development plan and a culture of continuous improvement, I believe that we can help Pilot deliver real benefits and value direct to the customer's doorstep.'
Tom Connolly, EDGE's regional sales executive, added: 'The EDGE product portfolio is expanding rapidly. All of our products will bring considerable advantages to Pilot's customers and potential customers. Core products such as radial conveyors and tracked conveyors will help end-users increase production levels and efficiencies.'
Mr Connolly continued: 'Some of our new innovative solutions, such as the RTS and LTS ranges, will bring new concepts and fresh thinking to the mines and quarries of Southern Africa. And looking to the future, as Africa starts to look towards materials recycling, EDGE can work in partnership with Pilot to offer a huge portfolio of solutions, such as shredders and trommels, to make sure our customers are a step ahead of other competitors.'
Sandro Scherf, CEO of Pilot Crushtec, commented: 'The EDGE product offering fits perfectly with the other products and brands currently offered by Pilot Crushtec. The commitment by EDGE to customers in terms of after-sales, spare parts and service, as well as their undoubted technical expertise and focus on innovation, clearly makes this alliance an important and extremely positive step both for us and our customers.'