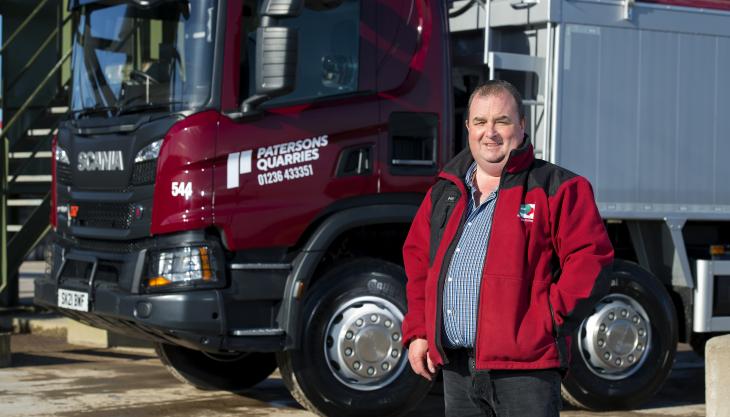 Truck fleet utilizes combination of Continental and Bandvulc tyres for performance on and off road
SCOTTISH aggregates firm Patersons Quarries have a particularly strong working partnership with Continental-owned tyre business R&J Strang Tyre Services Ltd. The two firms boast a 25-year professional affiliation and have recently committed to hitting their 30th anniversary with a new five-year deal that will secure a total of three decades of collaboration.
With five active quarries across Scotland's central belt, raw aggregates form a large part of Pattersons' product offering. However, the company also manufactures bricks, blocks, kerbstones and concrete, and runs a range of vehicles to support the delivery of its diverse product range, including 20 eight-wheel tippers and 11 truckmixers for concrete deliveries.
Gordon Carlton (pictured), transport manager at Patersons Quarries, said: 'Working in aggregates and quarrying, our tyres have to stand up to harsher treatment than in other sectors or industries. Our vehicles spend a significant proportion of their day away from paved roads, and a hard-wearing compound is critical to keep them moving for longer.
'We face two major hurdles when it comes to finding the right tyres for the job. First, the tyre needs to be strong enough to minimize penetration risk. A flat tyre or a blow-out is not only a safety risk for the driver and general public, but it's also a lorry off the road and creates a delay or missed delivery for one of our customers.
'The second issue we battle is traction. The nature of our plants and our customers' construction sites means that our vehicles are often driving over grass, mud, sand, gravel and rocks. With a vehicle typically spending 60% of the day off highway, we need to trust the tyres to help drivers remain safely in control at all times. The Continental and Bandvulc offerings enable us to meet both of these needs.'
Selected for its robustness and reliability both on and off road, Patersons' fleet uses the Continental CrossTrac HS3 tyre on steer axles. In a quarry and building site environment, this tyre's robust four-belt casing and innovative tread design provides excellent grip and durability in all weathers.
On highways, the same tread design helps to maximize fuel economy over long distances, whilst the enclosed tyre shoulder is said to inspire confidence with its exceptional handling and stability characteristics.
Drive axles are fitted with Bandvulc Big D premium retreaded tyres, with the high-polymer compound, Armorband sidewall reinforcement and extra-deep tread helping Patersons' trucks to keep going in the harshest of conditions.
'Safety and reliability are critical to our success,' explained Mr Carlton. 'We're more than happy to invest in the tyres needed to deliver the results. We've been shouting about Continental's family of products for years, and their tyres have a well-earned place in the quarrying market.
'At the end of the day, it comes down to quality. Despite the environment we operate in, we're happy that we get a fair and reasonable lifespan from the Continental and Bandvulc products. It is a case of you get what you pay for.'
All aspects of Patersons Quarries' tyre contract is managed through Continental's R&J Strang business, as part of their wider Conti360° fleet-solutions package.
'We have a close working relationship with R&J Strang,' said Mr Carlton. 'They offer excellent advice and we trust them to make the necessary decisions for the benefit of the fleet.
'We receive daily inspections and they'll send support 24 hours a day, seven days a week. You only need to give them the fleet number or vehicle registration, and the team will handle the rest. It's that attention to detail that means we have minimal vehicle downtime, which is fantastic.
'As far as I'm concerned, we wouldn't consider a move from R&J Strang and the Continental product offering. The tyres are excellent, the service is exemplary, and the combination helps us to perfectly meet our customers' needs.'