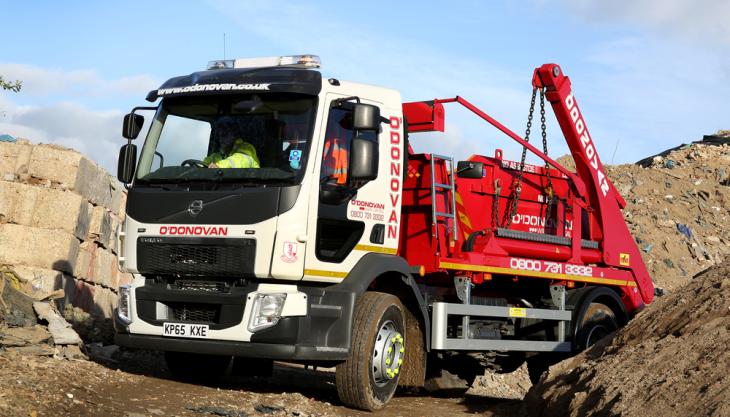 Company takes part in Road Haulage Association driver CPC in-cab training programme 
O'DONOVAN Waste Disposal, one of London's leading independent waste-management operators, have reaffirmed their commitment to excellence by enrolling one of their supervisors on the Road Haulage Association (RHA) driver CPC in-cab training scheme. 
Paul Neal, logistical supervisor for O'Donovan, undertook the RHA training in March this year, which took place over two days and covered topics including: fuel economy; creating training programmes; reducing accidental damage; and assessing the cause of accidents.  
The objective of the RHA training is to provide attendees with the appropriate skills to carry out their own in-house driving assessments on staff afterwards. Following the course, Mr Neal will be putting his skills into practice by training O'Donovan employees to drive competently and ensuring all drivers are equipped to operate to the highest standards possible; reducing accidents and improving safety for both drivers and vulnerable road-users.
Jacqueline O'Donovan, managing director of O'Donovan Waste Disposal, said the company is always 'thinking ahead' and refreshing staff knowledge as often as possible to ensure they are well aware of the latest health and safety measures for continued excellence. 
'We pride ourselves on our high standards of training for staff and recognize the importance of developing the skills of our team, ensuring they receive the right training throughout their employment,' she commented. 'We see our workforce as our biggest asset, so by ensuring they operate to the highest standard this, in turn, benefits the service we provide to our clients.'
The company has a range of ongoing initiatives demonstrating its commitment to the industry, including roles as a Construction Logistics and Cycle Safety (CLOCS) champion and being part of the Fleet Operator Recognition Scheme (FORS) for which they have held gold operator status for four consecutive years. 
Richard Burnett, CEO of the RHA, said: 'We're thrilled that O'Donovan Waste Disposal is investing time and money in our training courses. Our course aims to provide drivers with the best level of training so they can feel confident and well informed when driving heavy vehicles on the road.'