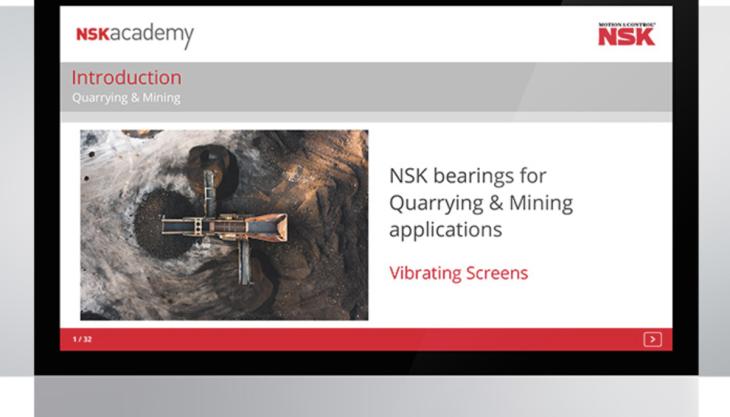 Company's latest online training module focuses on bearing selection for vibrating screens 
A NEW online training module has recently been introduced to the NSK academy online platform. This latest module, which focuses on vibrating screens, will appeal to all those involved in specifying bearings to withstand the harsh working environments found in mining, quarrying and construction applications. 
Due to inherent vibration, the components used in high-frequency vibrating screens have to be robust and reliable, none more so than the bearings. Correctly specified and mounted bearings will provide increased fatigue strength against the effects of vibration and shock load conditions.
For instance, a special cage design can minimize resonance from induced vibrations, while simultaneously resisting thermal effects. Moreover, an enhanced surface finish on the rollers and rings will reduce the potential for damage caused by slippage, flaking or surface fatigue.
The latest training module has been devised to help equipment OEMs understand the fundamental principles behind bearing selection for vibrating screens. Featured content includes an overview of vibrating screen functionality, as well as the common types, terminology and key operating parameters. There is also a major focus on the bearings deployed in these applications, including their main features, specifications and benefits.
NSK say vibrating screen OEM staff who are active in product sales, technical support, maintenance, engineering or research and development, will find the latest training module particularly beneficial. As with all training modules available at NSK academy, registered users completing the course will require an 80% pass mark to receive a certificate.
The founding principle of the NSK academy is to help participants expand on the knowledge they apply on a day-to-day basis, and utilize the latest NSK bearing solutions to maximize machine life. Each training course is designed to increase the skill levels of staff and help OEMs benefit from higher profitability due to reduced maintenance times.