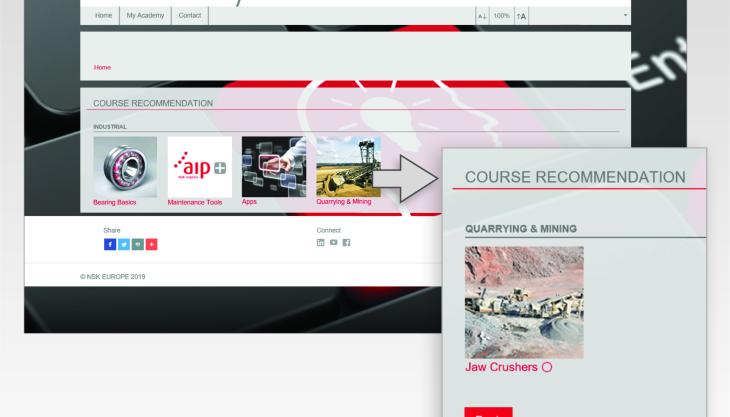 Company's latest online training module focuses on use of bearings in jaw crusher applications
A NEW online training module focusing on the use of bearings in jaw crusher applications within the quarrying and mining industry has been added to the 'NSK academy' online platform. As with existing content, registered users who successfully complete the new jaw crushers module will receive a certificate based on the attainment of an 80% pass mark.
Bearings from NSK can help quarrying and mining equipment OEMs maximize crusher performance. To understand how and why, the new training module helps participants appreciate the importance of class-leading technology such as the NSK CAM series of double-row spherical roller bearings, which offer high load capacity and extra durability in use.
As critical components in jaw and cone crushers, bearings are exposed to shock and heavy loads, along with challenging environmental conditions that typically involve water, dust and extreme temperatures. Operating in these conditions can cause premature bearing failures, leading to costly downtime and potential interruptions to quarrying.
The new training module has been devised to help equipment OEMs understand the fundamental principles behind bearing selection for jaw crushers. Featured content includes segments on typical operating conditions, bearing positions in a jaw crusher and a comparison of bearing designs.
NSK say anyone involved in customer service/sales, product management, field service/sales, technical support/maintenance, engineering or R&D will benefit from the jaw crusher module. Upon completion of the course, 10 questions must be answered with 80% success in order to receive a certificate. The course can be found at www.nskacademy.com (a quick and easy registration process is required for those new to the site).
Currently, the course is available in English and German, although Spanish and French will be added shortly.