Aggregate Industries' Manchester Readymix site hosts EcoPact low-carbon concrete demonstration 
AGGREGATE Industries' Manchester Readymix plant hosted more than 50 visitors from the construction, design, and engineering industries to demonstrate their low-carbon concrete.
The visitors gathered at Aggregate Industries' SRM Concrete site in Paston Road, Wythenshawe, to see the benefits of the EcoPact range, which offers a range of carbon savings compared to traditional concrete (CEM1).
Starting at 30% less emissions right through to carbon neutral options, EcoPact offers a low-carbon solution while still delivering on performance, strength and durability.
Guests ranging from developers, construction managers, and architects to structural engineers, designers, and contractors saw a batch of EcoPact Prime AS being mixed on site, poured, and worked on live to showcase how the concrete performs and finishes.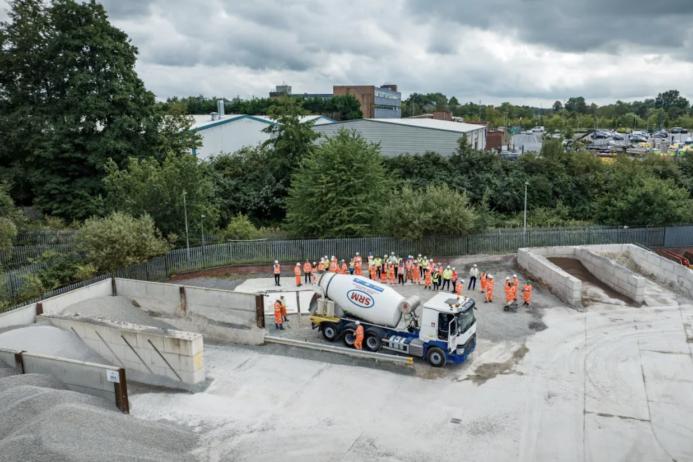 Joanne Wilkins, north-west area general manager of Aggregate Industries' Readymix division, said: 'The aim of the day was to raise awareness and start conversations with people in the industry about sustainable solutions.
'We can deliver low-carbon concrete now and we wanted to show people in person how it performs and that it is no different to traditional concrete in terms of strength and workability.
'The appetite for sustainable development in the North West is accelerating rapidly and more and more customers and clients are now having to deliver low-carbon or even net-zero projects. We want low-carbon products to be the first choice for projects, not just a nice option, and our aim is to be the UK leader in sustainable building solutions.'
Daniel Roberts, Readymix commercial manager for Greater Manchester, said: 'It was a very positive day and we were really pleased with the amount of people who joined us for the event and engaged with us.
'We spent some time talking about our approach as a company to net zero and sustainability and how we can support customers in delivering against their carbon targets, as well as our low-carbon product range.'
EcoPact Prime AS was named Product Innovation of the Year at the 2023 edie Awards – the world's largest sustainable business awards scheme.