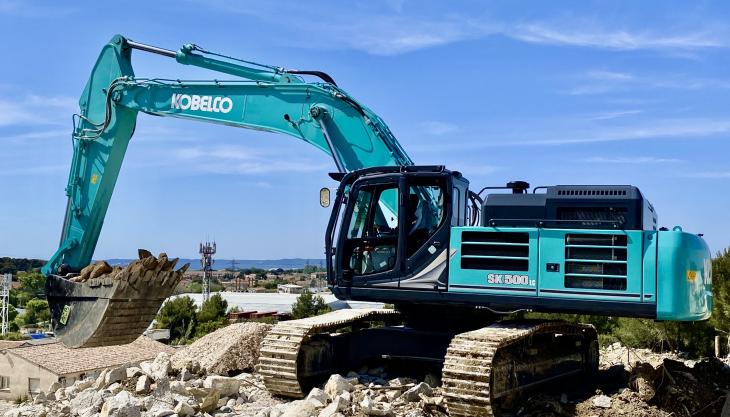 Kobelco extend 50-tonne class crawler excavator line-up with introduction of two new models
KOBELCO have introduced their next generation of Stage V-compliant heavyweight crawler excavators with the launch of the all-new SK500LC-11 and larger SK530LC-11, both of which are said to benefit from increased speed and performance, improved reliability and maintenance, and state-of-the-art ergonomics and design.
Weighing more than 50 tonnes, the SK500LC-11's engine performance is at the top of the 50-tonne segment, thanks to its new turbocharged, Stage V, 13-litre Hino engine. For the customer, the improvement in performance means the SK500LC-11's cycle time has been shortened by 5.1%, fuel consumption has been improved by 5.4% and productivity has been increased by 6.2%, compared with H-mode, S-mode and Eco-mode, respectively, on the SK500LC-10 model.
Whereas the SK500LC-11 is best suited to general construction applications, Kobelco say the SK530LC-11 is designed for both general construction and quarrying. The SK500LC-11 has a higher operating weight (50,400kg) compared with the previous SK500LC-10, leading to increased stability, and both the SK500LC-11 and SK530LC-11 benefit from high hydraulic pressure (Heavy Lift) for greater lifting power at close radius, allowing for smooth and steady operation while moving heavy objects.
For comparison, the SK530LC-11 has an operating weight of 53 tonnes and benefits from an adjustable undercarriage. Its track gauge can extend to 2,890mm for top-of-the-market stability and superior lifting performance. When retracted, the overall crawler width is just 2,990mm, compared with 3,350mm on the SK500LC-11.
The SK500LC/SK530LC-11 also boast a completely new standard in cabin design and ergonomics The machines' spacious cabs incorporate a number of features to improve aesthetics, comfort and safety. For example, the Kobelco-branded Grammer heated and air-suspended seat provides excellent shock absorption and superior ride comfort, and moves together with the fully adjustable armrests and hydraulic controls for reduced operator fatigue.
The jog dial also controls multiple functions on the large 10in colour monitor and can be operated even with gloved hands. For optimum comfort, the SK500LC/SK530LC-11 comes with air-conditioning as standard and the cabin is equipped with a DAB+ radio (FM/AM, AUX, USB, Bluetooth and hands-free telephone) and a 12V power outlet.
Excellent visibility is provided by three standard cameras located on the left, right and rear sides of the machine (offering bird's-eye and eagle-eye views), allowing the operator to customize viewing needs. The easy-to-operate menu screen also facilitates the reading of important information, including fuel consumption, maintenance intervals and digging mode, at a glance, as well as setting modes for attachments.
Easy maintenance is assured thanks to an improved layout of the radiator and oil-cooling system, easier access to the urea tank and two-stage air filter. An optional walkway on the left-hand side of the machine can also be installed for easier inspection and cleaning of the machine's cooling system elements.
Engine reliability is also significantly improved on the new generation 11 models. The engine fan belt is now equipped with an auto-tensioner, a reversible cooling fan has been introduced to guarantee radiator cleanliness, and heated urea lines help to prevent clogging issues at colder ambient temperatures.
Both the SK500LC-11 and SK530LC-11 models are available with standard boom and three arm variations, or as a mass excavation model with a short boom and short arm.