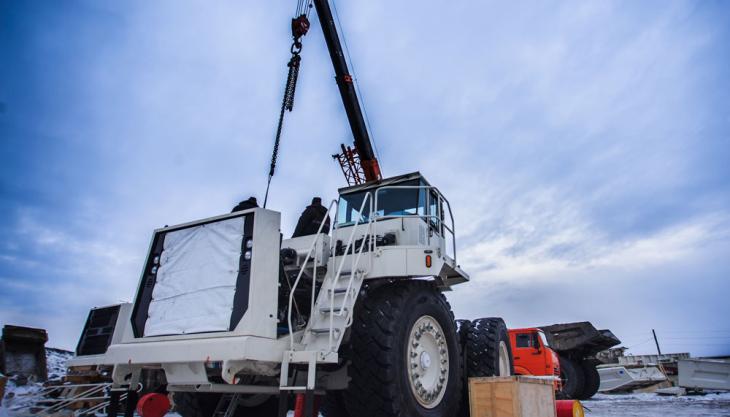 Sovrenmennye Gornye Technologii invest in 10 new TR100 dumptrucks for opencast coal site
HELPING to keep the energy flowing across Russia, a fleet of 10 Terex Trucks TR100 rigid haulers have been put to work at the heart of the country's mining industry – the Kuzbass.
Located in south-western Siberia, Kemerovo Oblast – known as the Kuzbass after the Kuznetsk Basin – is one of Russia's most important industrial regions. Noted for its long, cold winters when temperatures can plummet to –35°C, the province is responsible for more than 30% of Russia's coal production.
Selected for use by mining contractors Sovrenmennye Gornye Technologii (SGT), the well-proven TR100 dumptrucks are working around the clock in an opencast environment.
Supplied by local distributors Ferronordic Machines, the robust 91-tonne capacity rigid hauler is well suited to the adverse weather conditions of the Kuzbass, thanks to its power, effective gearing and optimum weight distribution.
According to Terex Trucks, the hydraulic disc brakes on the TR100 deliver better operator control, while the transmission retarder minimizes brake wear, reducing ownership costs and increasing machinery uptime. Furthermore, the air suspension bears the load through variable-rate nitrogen-over-oil type struts, which ensure a smoother ride, reducing operator fatigue and helping to boost productivity.
Since commissioning the TR100 rigids, SGT have recorded an increase in production, and noted that the machines are easy to operate and outperform other brands. A skilled team of engineers from both Terex Trucks and Ferronordic worked against the challenging conditions to put the haulers together for immediate work.
'This was the first time that we've had to assemble such huge machines,' said Anatoly Amons, chief technology officer for Ferronordic. 'However, we managed to gather a team of skilled engineers, and even in severe weather conditions of blizzards and low temperatures, the assembly process did not stop for a single day.'
Once all the rigid haulers were assembled and commissioned by SGT, Ferronordic, with the support of Terex Trucks' service engineers, carried out an on-site training programme to ensure the machine operators gain all the performance benefits of the TR100s.