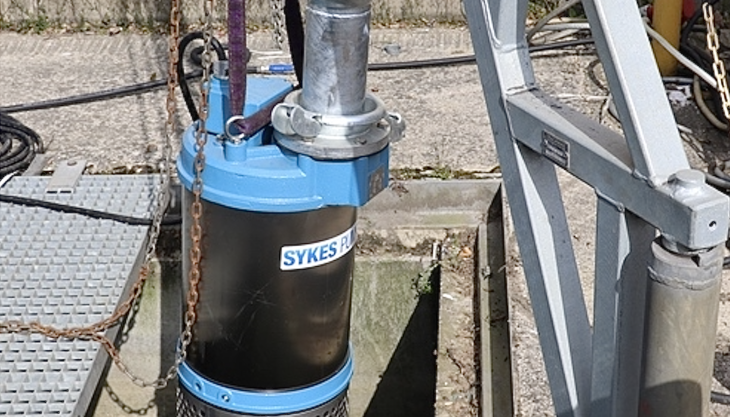 Sykes Pumps add to comprehensive submersible fleet with compact P2002N and P3002N models
SYKES Pumps have added two new electric submersible drainer pumps to their wide-ranging pump hire fleet – the P2002N and the P3002N.
Designed for challenging dewatering environments across a range of sectors, including mines and quarries, the pumps enhance a comprehensive submersible fleet across Sykes Pumps' national depot network.
The P2002N submersible drainer pump is a 3/4in unit capable of delivering flows of up to 29 litres per second and operating at heads of up to 22m with solids handling of up to 10mm.
Specifically designed for demanding water-displacement projects, the durable, reliable unit is said to provide excellent long-term performance while offering a compact and lightweight plug and play solution, allowing rapid deployment and ease of repositioning.
The slim design also makes the P2002N submersible drainer pump well suited to confined locations and the pump can be instantly operational with just a 415V power source.
Constructed with stainless steel components for excellent abrasion resistance, the P2002N pump is compatible with Sykes Pumps' expansive range of control panels and can be configured to stop/start automatically to conserve energy and reduce running costs where appropriate.
The P3002N submersible drainer pump delivers the same compact size, robust construction and excellent performance in a 4/6in unit, capable of flows of up to 41 litres per second at heads of up to 33m. Typically used for the transfer of nuisance water, this unit offers a dependable and robust solution capable of handling solids of up to 15mm.
Both new submersible drainer pumps are available from any of the 25 depots in Sykes Pumps' national network.
Chris Graham, sales director at Sykes Pumps, commented: 'We are continuing to invest in all aspects of our pump fleet and these compact submersible units are a great addition that enables an emergency, plug and play dewatering solution.
'The robust units are equally suited to long-term applications and their lightweight, yet robust design makes them ideal for moving around site for redeployment as needs change.'