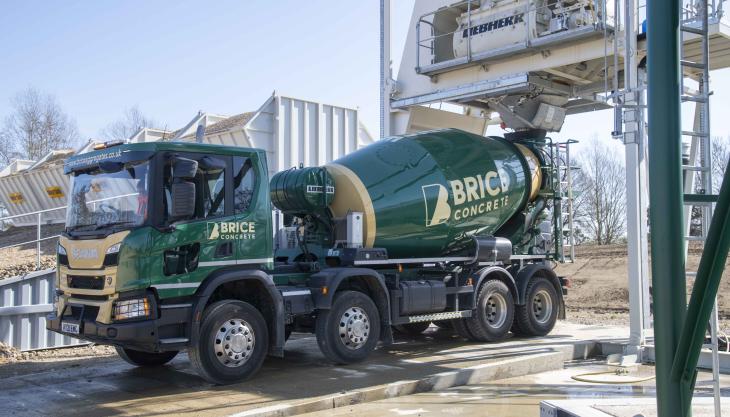 Essex company opts for Liebherr equipment after listening to recommendations of other concrete producers
BRICE Aggregates produce virgin sand and gravel at their Witham quarry and, as managing director Oliver Brice explained, it was a logical step to begin using these high-quality aggregates to produce ready-mixed concrete.
Having taken the decision to set up Brice Concrete, the next move was to find the ideal combination of batching plant and mixer drums.
'We looked at a number of products and spoke to other concrete producers, the majority coming back with very positive comments about the Liebherr packages,' said Mr Brice. 'We visited a number of Liebherr installations and liked the build quality of the batching plants. That build quality and reliability was something we also saw in the mixer units.'
Satisfied with its research, the company placed an order for a Mobilmix 2.5F batching plant and four HTM 905F mixer units mounted on Scania 8x4 chassis.
Mobilmix plants are quickly installed thanks to the main components being designed for easy transportation and erection. For example, Brice's plant was delivered, installed on its concrete pads and commissioned in just one week, thanks to the pre-wired design and integrated control container.
The 2.5F model has a class-leading output of up to 115 cubic metres per hour via a 2.5 cubic metre DW mixer, an arrangement that makes life easier for concrete plant supervisor Gavin Dickens. 'The system is set up so that we are able to batch consistent quality material each and every time. Batching time is also minimal, which means we are able to keep to a minimum the standing time for the trucks when they arrive back at the quarry.'
Mr Dickens added: 'Everything is laid out so well. The design of the plant makes it easy to maintain and easy to clean.'
The HTM 905F drums have a nominal capacity of 10.5 cubic metres, but to ensure UK weight regulations are adhered to, Brice Concrete limit the fill to 7.5 cubic metres. 'This is ideal for us as it's just three batches from the plant,' said Mr Dickens.
The mixer drums are fitted with Liebherr's optional EMC mixer control system to balance the carrier's engine speed and torque, thereby reducing fuel consumption and wear on the truck's drive train. Also, the constant speed drive function of EMC reduces the number of revolutions during a trip, prolonging the drum's service life.
Liebherr's latest generation drums have been improved in a number of ways. For example: the rear ladder and platform have been enlarged and the ladder is now fabricated in aluminium for weight reduction; the rear chute has been lifted to permit better discharge from the drum; and a new oil-cooling system integrated into the drum's drive system means greater cooling capacity and lower noise levels.
The Brice team say they are impressed with the Liebherr products, which are delivering exactly as expected. 'I cannot fault the products or the back-up we have received from Liebherr at Biggleswade and the engineers who have been out to install the plant and help set it up,' said Mr Brice.
The high-output plant is producing wet batched concrete for distribution throughout Essex by a fleet of 10 Scania trucks, servicing customer requirements ranging from single loads up to the largest pours.