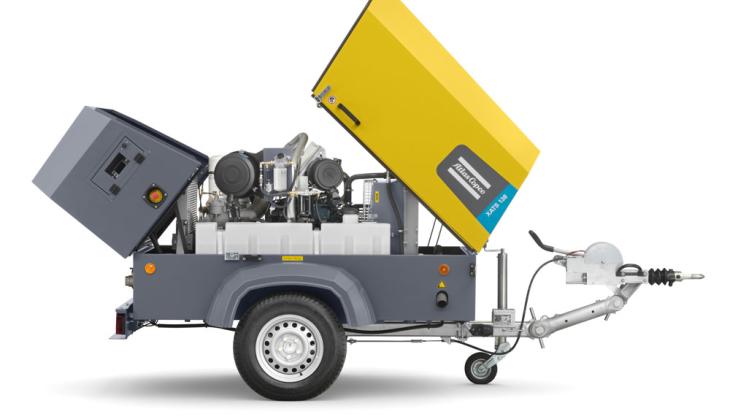 Latest XATS 138 unit matches airflow and pressure to meet specific applications
ATLAS Copco have launched a new single-axle portable compressor that allows end-users to match air flow and pressure to their specific application needs.
Through its PACE (pressure adjusted through cognitive electronics) system, operating pressures on the XATS 138 compressor can be adjusted by increments of 0.1 bar via an intuitive XC2003 controller. The ergonomically positioned controller provides diagnostics, tracks the compressor's utilization and indicates planned service interventions.
The XATS 138 unit also features a strong canopy and undercarriage to allow safe transportation. Its bodywork is protected by a three-layer corrosion-resistance system, including Zincor, primer and a powder coating, while a spillage-free frame (fitted as standard) ensures fluids are contained.
Lightweight and compact, the compressor has a small footprint and is powered by a four-cylinder, Stage IIIB emissions-compliant Kubota engine (49kW) equipped with a DOC-DPF after-treatment exhaust system. The normal effective working pressure range is 7–10.3 bar with a flow of 5.5–7.0 cubic metres per minute.
To minimize maintenance and service costs, the XATS 138 compressor offers extended service intervals of 1,000 hours or once every two years, on average, while the engine is every 500 hours or once a year.
Additional features, such as a spin-on air/oil separator, ensure that the service interventions are quick and efficient. This is complemented by the dimensions of the U-Flex pivot canopy, which provide easier access for servicing.
'Our forward-thinking approach to design means we never compromise when it comes to providing customers with efficiency,' said Hendrik Timmermans, vice-president of marketing for Atlas Copco's Portable Energy division.
'The XATS 138 allows users to effectively deploy a single compressor for multiple applications, optimizing their fleet investment, increasing utilization and delivering a higher return on investment in the process.'