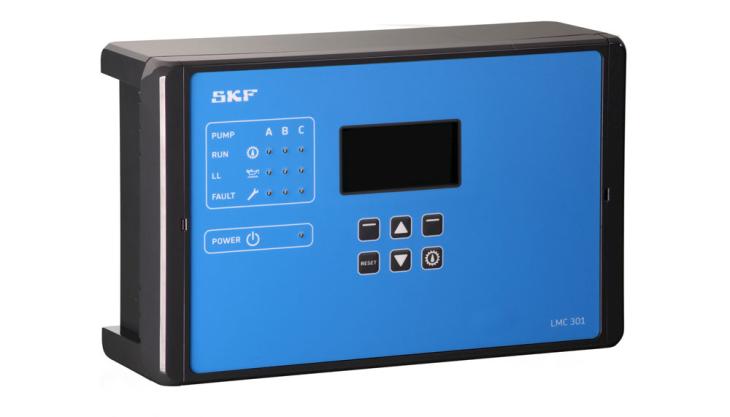 Powerful and easy-to-use smart controller simplifies the management of complex lubrication systems
A NEW addition to SKF's comprehensive range of lubrication products is the LMC 301 – a programmable controller for applications where sophisticated control of lubricant delivery is required.
Designed for use with pumps that have no built-in controller, the LMC 301 combines all critical lubrication system management functions in a single package, simplifying system set-up, operation, monitoring and maintenance.
The unit has been designed with modern, precision-lubrication applications in mind. For example, systems may require different lubricant types or lubrication cycles on different parts of a machine, lubrication intervals based on time or number of machine cycles, or combinations of normal and heavy lubrication cycles depending on operating conditions.
To accommodate these requirements, the LMC 301 can control up to three pumps and manage three different lubrication zones per pump, allowing users to define up to nine separate lubrication zones on their machine or production line. If required, each pump can control a different lubricant system type.
The unit is designed to work with single-line, dual-line and progressive lubrication systems, and for further flexibility in specific lubrication zones, the LMC 301 can also be linked to the new SKF EDL1 electrically driven lubrication pumps.
The LMC 301 monitors lubrication system operation using pressure switches and transducers installed on the lubricant delivery lines. For critical applications, a grease monitor/sensor can alert the operator to any disruption in the lubricant supply.
Built-in control relays have a high current capacity for use with large, high-capacity pumps. The system also provides motor protection when used with motor starters.
System set-up is conducted using a laptop computer via a USB connection. The LMC 301 also includes a built-in display and control buttons for status monitoring and routine operation.
Models designed for AC or DC operation are available and the unit is supplied in a robust IP65-rated enclosure suitable for use in difficult environments or where washdown is required.
SKF say the LMC 301 is suitable for any lubrication system control application, including manufacturing and process plant, mobile equipment or mining and construction machinery.