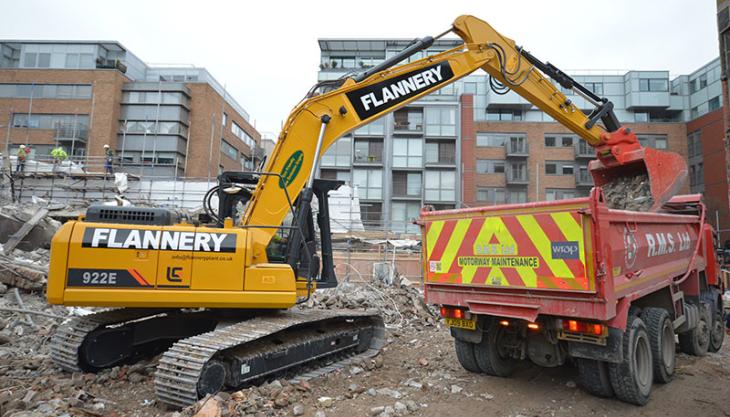 London-based company adds LiuGong demolition-spec excavators to its 1,700-strong machine fleet
FORMED in 1972, Flannery Plant Hire (Oval) Ltd have always been at the cutting edge of plant and machinery technology, to ensure that their customers are continuously supplied with the best and most modern equipment on the market today.
The company has expanded its machinery fleet over the years with the current fleet tally totalling around 1,700 units, operating out of three main depots in Wembley, Manchester and Cardiff, with satellite depots in Birmingham and Northumberland.
It comes as no surprise then that Flannery have continued to invest in their machinery fleet with a number of new excavators from Chinese manufacturers LiuGong, which were supplied by Portsmouth-based Construction Plant and Machinery Sales (CPMS).
The new additions consist of: five 908Ds; five 915Ds and five 922E models, which have all been fitted out to Flannery Plant Hire's own demolition specification, including bucket ram guards, heavily armoured side-skirt protection and full ROPS/ FOPS cab protection.
The eight-tonne 908D excavator is powered by a 76hp Yanmar engine, while the 14-tonne 915D model is powered by a 104hp Cummins engine and the 22-tonne 922E machine is equipped with a Stage IIIB-compliant Cummins engine (157hp).
Commenting on the recent purchase of LiuGong machines, Martin Flannery, managing director of Flannery Plant Hire, said, 'We initially tried a wheeled loading shovel and a 14-tonne class excavator and were impressed by them, as they have proven to be robust machines for the demolition sector, with stronger panels than some competitive machines. In addition, if they do suffer damage, which often happens in the tough demolition sector, we have found that the replacement panels are much more economically priced compared to other manufacturers.'
He continued: 'We have also been delighted with the operator feedback we have received so far, with most commenting that the machines are very smooth to operate, have plenty of power and are economical on the fuel consumption side of things. We feel confident that we will be ordering more LiuGong machines as a result of this feedback.'
 
Talking about the recent deal with Flannery Plant Hire, Grant McGregor of CPMS said: 'We are delighted to announce that a prestigious company such as Flannery have placed this order with us, for what is a comprehensive package of LiuGong excavators, in what can be seen as a real testament to the equipment's reliability, productivity and value for money.'