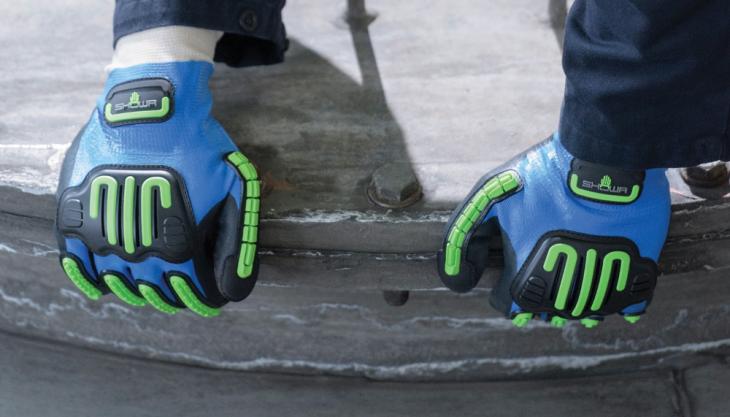 High-performance SHOWA 337-IP set to make an impact in reducing hand injuries
FURTHER strengthening their position as a leading name in hand protection, Globus have launched the high-performance, impact-resistant SHOWA 377-IP glove.
Designed to protect workers who face the risk of impact-related hand injuries from tasks such as handling concrete and stone blocks, cable pulling and operating heavy plant, the new 377-IP glove combines impact protection with wet and dry grip performance, durability, comfort and dexterity.
Thanks to its revolutionary design, the back of the hands, knuckles and fingers are protected by SHOWA's fully integrated and highly flexible thermoplastic rubber (TPR) shields, which absorb and dissipate the force of an impact, significantly reducing the risk of injuries. Flex points have also been built-in to the TPR shields so that when the hands are gripping tightly, the shields are not 'opened up', thus safeguarding the bones against potential impact exposure.
On the palm, SHOWA's patented nitrile foam grip technology, which extends down to the fingertips, disperses liquids including oil, hydrocarbons and grease to deliver outstanding grip in wet and slippery conditions. The additional underlying nitrile film layer also repels liquids and protects against mortar to bolster protection across the entire hand.
Globus marketing manager Steve Shale said: 'The SHOWA 377-IP glove fills a real gap in the market that currently exists where there are impact risks to workers' hands. You only have to look at the latest figures from the HSE to see how risk-exposed the hands are – in particular from handling and 'struck by' impact injuries. Handling injuries remain the single biggest cause of over seven-day injuries in the UK, with 'struck by' injuries the fourth largest cause.'
He continued: 'The development of the SHOWA 377-IP provides the perfect balance of impact protection, wet and dry grip, hand flexibility and liquid resistance. It also overcomes any lack of finger flexibility that can be evident in other impact-protection gloves in the sector. Feedback from workers so far has been extremely positive.'
In addition to its physical attributes, key benefits of the new SHOWA 377-IP glove include:
Durability – the palm is significantly more abrasion resistant compared with traditional synthetic leather
Ergonomic – mimicking the natural curvature of the hand, the glove provides comfort for extended wear and reduced hand fatigue
Bright blue and green colour – the highly visible glove can help safety in poorly lit working environments, increasing the awareness of the user's hands by others
Tactility – the glove has the flexibility and dexterity that workers like, leading to increased wearer compliance and greater worker efficiency.