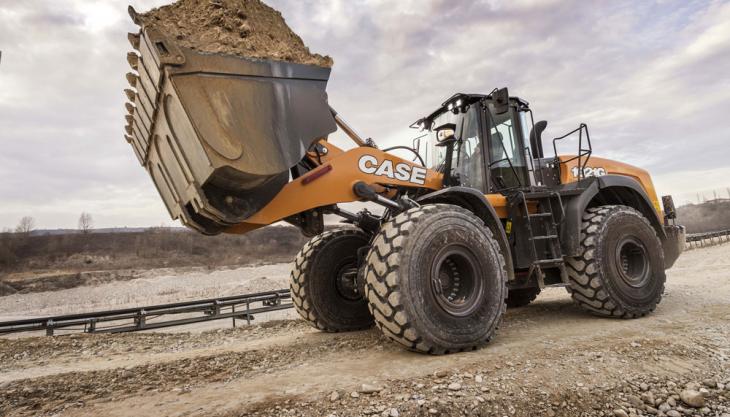 Latest fuel-efficient machines set new standards for operator comfort and visibility
CASE Construction Equipment have announced the launch of their new seven-model G-Series range of wheel loaders that is said to set new standards of operator comfort with proven productivity and fuel efficiency.
The latest wheel loader models – the 521G, 621G, 721G, 821G, 921G, 1021G and 1121G – have all been designed to provide superior visibility with best-in-class windscreen size and enhanced operator comfort with a premium control interface, seat-mounted console and new joystick steering with speed-proportional sensitivity.
The machines also feature striking new livery, a superior payload-to-weight ratio for maximum productivity and a pressurized cab with HEPA and active carbon filtration options.
The G-Series loaders are powered by a Stage IV/Tier 4 Final-compliant diesel engine without the use of a diesel particulate filter or exhaust gas recirculation. Instead, the machines incorporate FPT Industrial's Hi-eSCR after-treatment system that uses fewer components to meet exhaust emissions standards, allowing for a compact engine compartment and reduced maintenance costs for customers.
The company's proven cooling cube, which places the radiators and coolers in the middle of the machine rather than at the rear, ensures cooling cores are kept out of dusty working areas to provide optimized cooling effectiveness.
The G-Series wheel loaders also benefit from Case's heavy-duty axles with wet, multi-disc brakes that reduce friction, while an optional 100% auto-lock feature provides maximum tractive effort and reduced tyre wear.
According to Case, the machines have the quietest and most comfortable cab, specially developed for wheel loaders, and deliver the highest levels of visibility and control, providing operators with the ideal working environment to optimize productivity.
Cab features includes: a full-width panoramic windscreen; an 8in colour control interface; password protected start-up for increased plant security; smooth, low-effort controls; and an active suspension seat.
Building upon the popular Case F-Series cab, the G-Series loaders feature a one-piece curved front screen that provides a superior view of the job site. Along with a slim engine cover, heated rear window and multiple rear-view mirrors, the machines are said to deliver unprecedented levels of front and rear visibility.
All the G-Series units have noise levels set at no more than 69dB, the lowest levels seen on a Case loader. The cab also benefits from enhanced primary/recirculation air filtration, with longer filter replacement intervals.