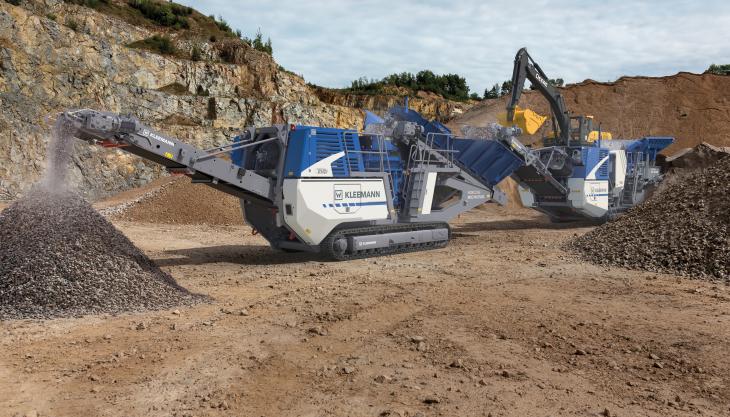 Intelligent Mobicone MCO 90(i) EVO2 designed for reliability, economy, flexibility and productivity
WITH the introduction of their new, intelligent and economical Mobicone MCO 90(i) EVO2 mobile cone crusher, Kleemann say they have created the ideal machine to complement to their Mobicat MC 110(i) EVO2 mobile jaw crusher.
With a maximum feed capacity of up to 270 tonnes/h, the robust new cone crusher is said to ensure more operational reliability and higher plant availability in a wide range of applications. And thanks to its improved diesel direct-drive concept and electrically driven conveyor belts, the Mobicone MCO 90(i) EVO2 is also said to achieve very good fuel consumption figures.
The machine's continuous feed system (CFS), which uses a probe to monitor the crusher level, regulates the material feed so that an optimum volume is always loaded into the cone crusher, thereby ensuring the best-possible material quality.
With the operation of crushing plants becoming ever more sophisticated, Kleemann have developed Spective, an intelligent control concept that considerably simplifies the operation of brand-new plants in the EVO2 generation. The Spective operating concept has an intuitive structure and comes with extensive features, including a 12in touch panel that has been optimized with regard to user guidance and visualization.
Moreover, new components, such as a large and small radio remote control, have been integrated into the Spective system, whilst the new Spective Connect digital solution sends important plant data to a smartphone, resulting in less downtime, higher productivity and more revenue.
Designed for flexible, high-capacity crushing, the Mobicone MCO 90(i) EVO2 cone crusher covers a wide gap range from 6–45mm. Improved crushing tools with optimized geometries contribute to the material quality as well to as the plant's output in various applications. All crushing gap widths can be set conveniently via the radio remote control.
Further functionality and work facilitation comes in the form of additional maintenance openings, standardization of the clamping wedge position for crushing tools and the automatic positioning of the inlet hopper during a tool change.
Equipped with an intelligent and effective overload system, safety and stable processes are ensured even under difficult conditions, with the tramp release system providing protection against uncrushable materials.
Even more important for continuous production, say Kleemann, is Ringbounce Detection. This software-supported overload detection system has two modes that allow users to choose whether to focus on product quality (Precise Mode) or product volume (Mixture Mode).