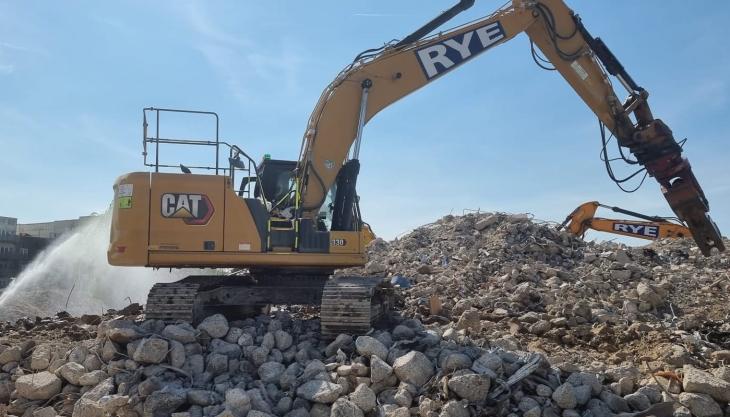 Sustainability, safety, and customer service clinches deal for Finning
RYE Demolition have bolstered their machinery fleet with the addition of four new Caterpillar excavators – putting sustainability and safety at the heart of their operations.
As well as having the latest technology features that optimize machine performance, alongside a tranche of built-in safety features (360-degree camera, height and slew restrictors, overload warning system etc.), it was the combined package of support and expertise delivered by Finning sales, data analysts, and service engineers that swung it for Rye.
 
Part of the Rye Group, sustainability has always been, and continues to be, a key part of Rye Demolition's focus. The Bedfordshire-based company was recently awarded 'Sustainability Champion 2022' status by the National Federation of Demolition Contractors (NFDC).
The purchase of two new Cat 330 excavators and two Cat 336 units with Finning demonstrates how demolition contractors can operate responsibly whilst mitigating fuel costs and reducing the environmental impact of their operations.
Simon Barlow, director of Rye Group, said: 'Fundamentally, demolition projects require extensive use of plant and machinery. It's therefore vital that we use machines that can not only do the job but can also be run efficiently, so we can keep operating costs down and continue to limit the environmental impact of our operations. For example, we've switched our entire fleet to run on HVO (hydrotreated vegetable oil) – the first company in the demolition sector to do so. 
'As a company we have always invested in the latest machinery with the most efficient engines available. We held a lot of discussions with Finning about how to reduce the rate at which the machines burn fuel for example. The mandatory switch from red diesel to white, and subsequent price hike from 60p to nearly £2 a litre means we needed to implement operational practices that mitigate rising costs.'
A telematics system fitted to the new Cat excavators automatically feeds data to Finning HQ, which is analyzed by the Finsight monitoring service team to provide Rye with a monthly report on each of the machines' performance. This ranges from showing how much fuel the fleet is using, their daily running time and how long is the equipment idling. For the demolition firm, this invaluable data is used to regularly review operator and on-site practices, avoid fuel wastage, and improve overall machine efficiency on site.
The safety record of both Cat and Finning also influenced Rye's decision to invest in the Cat machines. Mr Barlow commented: 'In the demolition sector, safety is arguably the most important thing to consider. Cat machines are the safest machines available today designed specifically to keep operators and demolition contractors safe when out on site.
'The team at Finning also spent time to show us the benefit of the tailored operator settings feature in the machines. They were able to set individually tailored settings for each of our operators, including seat position, positioning and data showing on the home screen, through to setting the speed time preferences for each operator.'
Jack Pilgrim, territory account manager for Finning, added: 'We're delighted to build on our relationship with Rye, with the latest additions to their fleet. Rye has complete peace of mind because all their machines are covered by our five-year, 7,500-hour premier warranty so are serviced by our skilled engineers. This offers guaranteed protection against unexpected repair bills and costly downtime.'