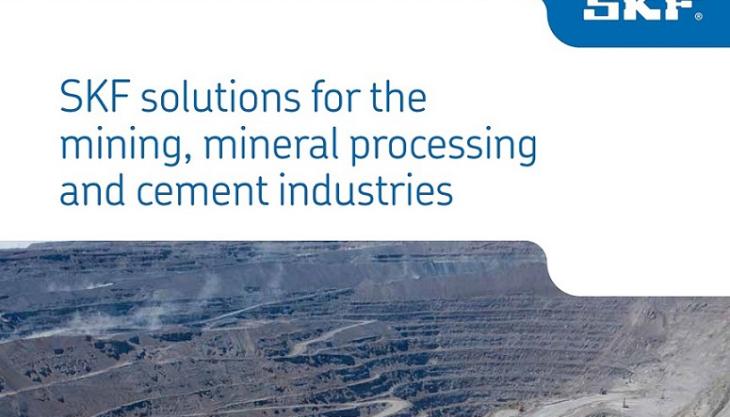 Company provides insight into products and services for mining, mineral processing and cement industries
SKF have launched a new capabilities catalogue to highlight their comprehensive range of solutions for optimizing and maximizing machinery service life in the mining, mineral processing and cement industries.
The publication brings together a wealth of expertise and knowledge to form a single reference source of information about the vast and varied range of SKF products and services for applications across these three sectors.
Created by industry experts, the new 88-page catalogue includes the latest information on SKF's experience in the mining, mineral processing and cement industries and explores the options available for enhancing the efficiency of rotating machinery. For example, end-users, OEMs and consultants alike can discover the many bearing and sealing products available to help increase production and reduce energy consumption.
In addition, the publication provides guidance on how SKF solutions can optimize machine life cycles through effective lubrication, maintenance and condition-monitoring services, to cut the total cost of ownership and improve worker safety.
The catalogue, which is easy to navigate and makes product identification simple, includes a feature that examines 12 industry applications and highlights some specific solutions for each, as well as a chapter dedicated to overcoming common challenges such as contamination, high maintenance costs and lost productivity, with a remedy for each issue.
There is also a cross-reference chart that allows the reader to find the most suitable SKF solution for each type of machinery, whilst the latter half of the catalogue features each solution organized by type for quick reference.
'The launch of this brand new catalogue demonstrates that SKF have a very broad offering for the industry,' said Thibaut Leconte, SKF's global applications engineering specialist for mining.
'We can now show, in a single reference source, that we provide a comprehensive and diverse range of proven solutions that can help mining, mineral processing and cement industry professionals to get the very best from vital machinery, while lowering the total cost of ownership and boosting operational performance.'