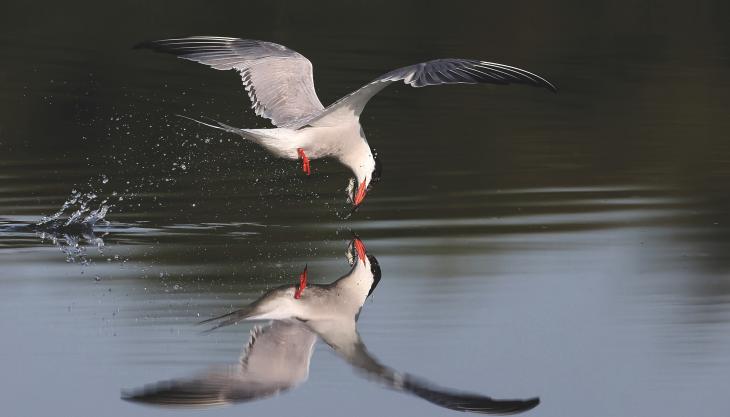 Mineral Products Association publishes book featuring images from 2021 Nature Photo competition
THE mineral products industry's delivery of a net gain for biodiversity – alongside its progress towards net-zero carbon – has been highlighted during the UN Climate Change Conference 2021 (COP26).
Coinciding with the COP26 'Nature Day' on Saturday 6 November – which emphasized the importance of sustainable land use to support nature recovery – the Mineral Products Association (MPA) has published a landmark book 'Quarries & Nature – A 50 year success story'.
Restored quarries are unique in their delivery of biodiversity net gain and the new book – which follows last month's premiere of a special Quarries & Nature anniversary documentary film – celebrates the industry's achievements over half a century.
Both book and film feature leading conservationists including Tony Juniper, chair of Natural England, Beccy Speight, chief executive of the RSPB and Craig Bennett, chief executive of The Wildlife Trusts. Each recognizes quarrying's key role in nature recovery.
And the stunning images in the book are drawn from hundreds of top-quality entries into the MPA's biennial Nature Photo Competition from employees of quarry companies and volunteers for partner organizations which manage many restored sites. Winners of the 2021 photographic competition are:

Employee Winners (from MPA member companies)
1st prize  David Soons, production operative, Aggregate Industries - Common tern (pictured), Cotswold Water Park, Gloucestershire
2nd prize Jeremy West, assistant quarry manager, Tarmac - Peregrine falcon, undisclosed location, North Yorkshire
3rd prize (joint) Alan Bland, quarry supervisor, Sibelco - Roe deer, Grandcourt Farm Quarry, Norfolk
3rd prize (joint) Ian Rumbellow, site manager, Tarmac - Southern migrant hawker dragonfly, Gallows Hill Quarry, Suffolk. 
Volunteer Winners (from conservation organizations managing restored quarries)
1st prize Roy McDonald, Berks, Bucks & Oxon Wildlife Trust - Feeding swallows, College Lake Nature Reserve, Buckinghamshire
2nd prize John J Kaczanow, Devon Wildlife Trust - Wren feeding young, Sourton Quarry Nature Reserve, Devon
3rd prize George Walthew, Kings Dyke Nature Reserve - Otter, Kings Dyke Nature Reserve, Cambridgeshire.
The MPA says the engagement of so many people who work in and around quarries demonstrates the passion for wildlife and commitment to nature recovery that exists at all levels of the industry.
Nigel Jackson, chief executive of the MPA, remarked: 'The quarrying industry has done more than any other sector to support habitat creation and nature recovery, and that's testament to the passion and dedication of the tens of thousands of people who work in our sector. Together, they have already helped to create more than 83 sq km of priority habitat with a further 110 sq km in the pipeline. That includes new wetlands, grasslands, heathlands, and woodlands that support some of the UK's most vulnerable species.
'I am proud of what this industry achieves, not just providing essential materials that underpin our economy and way of life, but also going above and beyond to deliver for nature. We support the COP26 focus on nature and sustainable land use because, as an industry, we have been delivering precisely that for decades.'
Tony Juniper, chair of Natural England, said: 'We have many good examples across the country of really beneficial outcomes for nature that resulted from minerals extraction. The MPA's biodiversity awards have been really important in inspiring people to see some of the possibilities at hand and setting out those examples of best practice.
'With a little bit of imagination and forethought, we can actually achieve a great deal for nature as well as extracting the resources we need for different kinds of developments.'
Beccy Speight, chief executive of the RSPB, said: 'Restored quarries are incredibly important for bird life, because they give us a kind of blank canvas to create new habitats for species which are really struggling. They form part of a joined-up network of habitat in the wider landscape so that species can be more resilient to the challenges they face.
'Partnership is key and one of the things I love about quarry restoration is that it's nature organizations, planning authorities, quarrying companies and local communities all working together to create new habitats.'
Craig Bennett, chief executive of The Wildlife Trusts, said: 'Let's celebrate the partnership between The Wildlife Trusts and members of the MPA over many years, which has been of huge benefit to wildlife. We need to not only put nature into recovery – but also the relationship between people and nature into recovery.
'My message to members of the MPA is that partnership working, including with Wildlife Trusts, will become increasingly important and if we can do that right we can achieve some really good outcomes for people and for the environment.'
Mark Russell, executive director of MPA, said: 'The vital role quarries play in nature conservation is one of the industry's best kept secrets. Maybe that's because by the time a well-restored quarry scheme has come to fruition, most people have forgotten that the site once provided the essential materials for the places where they live, work, and play.
'In England alone there are over 2,000 quarries, covering 64,000ha (0.1% of the country's land area) all of which will be eventually restored. Through careful planning, imaginative design and innovative engineering, each site is an opportunity to create a new landscape where rare and endangered species can thrive.
'No other industry comes close to being able to achieve this – indeed, the mineral products sector was restoring land to enhance nature decades before the term 'biodiversity net gain' was coined. No surprise then that the MPA was the first trade association to publish a biodiversity strategy more than a decade ago.'
Today, more than 80 restored quarries make up the MPA's virtual National Nature Park which also features visitor centres, nature trails, and educational facilities. Restoration work has also nurtured long-standing partnerships with numerous conservation organizations, many of whom take over the running of restored sites for all to enjoy.