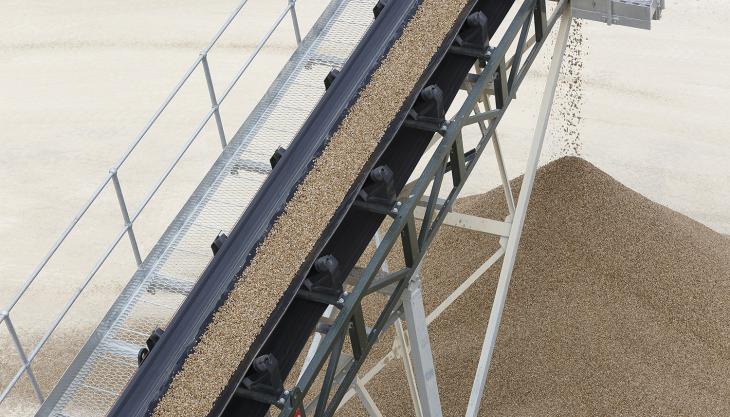 Cost inflation for raw materials, energy, and labour drive down demand for mineral products in Q2 2022
A DISAPPOINTING quarter for UK producers of mineral products has raised concerns that widespread cost inflation for raw materials, energy and labour is starting to negatively impact the sector.
Following a strong start in 2022 for the industry, demand for construction-related mineral products, such as aggregates, ready-mixed concrete, asphalt, and mortar, edged lower in the second quarter (Q2) of the year, with sales volumes down on a quarterly basis, according to the latest figures from the Mineral Products Association (MPA).
The new figures show that the tonnages of asphalt sold in Q2 2022 were 6% lower, compared with the previous quarter, 7.4% lower for ready-mixed concrete, and 9.8% lower for aggregates (crushed rock, sand and gravel).
Asphalt and crushed rock sales both fell from near record levels in 2021, while ready-mixed concrete, and sand and gravel sales slipped further below their pre-pandemic levels. Mortar sales were also lower than in Q1 2022 by 3.4%, albeit from a high base and volumes remain supported by housebuilding activity.

These essential 'heavy-side' materials are the largest constituent in the construction supply chain, forming the foundations and structures of buildings and infrastructure developments, with MPA producer members supplying over 90% of total market demand in Great Britain. They are primarily used early in a construction project's timeline, therefore providing a useful indicator of near-term continuity in construction growth.

Survey data from MPA producer members indicates that demand for these materials dropped off markedly from June, with the extended bank holiday and rail strikes said to have caused some disruption.
However, the main concern for MPA is that widespread cost inflation throughout the construction supply chain is starting to negatively impact on construction demand, possibly indicating the start of a more prolonged downturn. All mineral products markets, from the extraction of aggregates to the manufacture of downstream products, have been exposed to significant cost increases for raw materials, energy, and labour in the past year.
Producers of energy-intensive ingredients for concrete and lime are finding themselves under considerable pressures. Similarly, asphalt manufacturers have been hit by bitumen prices, which are 30-40% higher than they were a year ago.
As costs have been passed on, the commercial viability of future construction projects may be impacted. In roads, for instance, local authorities are faced with significant material cost increases for repair and maintenance projects without offsetting increases in their budgets.
Anecdotal reports from asphalt producers indicate that some local authority projects have been pushed back for review to work around these rising costs, causing further delays to project delivery and increasing overall uncertainty.

Aurelie Delannoy, the MPA's director of economic affairs, cautioned that the recent weakness in mineral products sales – if continued over the second half of the year – would make a contraction unavoidable for the year as a whole for all mineral products monitored. A slowdown in the latter part of 2022 had already been anticipated due to the expected feed-through of cost pressures and the increased financial vulnerability of households as real incomes are being squeezed.
'This may simply have started to stifle market demand a few months sooner than expected,' added Ms Delannoy. 'The start of the third quarter is also looking challenging. Current ONS data for construction output and new orders remain broadly positive, but prospects for mineral products sales have been dented by the record heatwave in July and the summer rail strikes.'

Mineral products manufacturers are increasingly uneasy over what is likely to happen at the end of 2022 and in 2023, as the impact of inflation and higher costs on the UK economy and construction become more evident. Nevertheless, current construction activity and a robust pipeline of new projects, primarily driven by large infrastructure projects and housebuilding, should continue to support buoyant sales volumes.