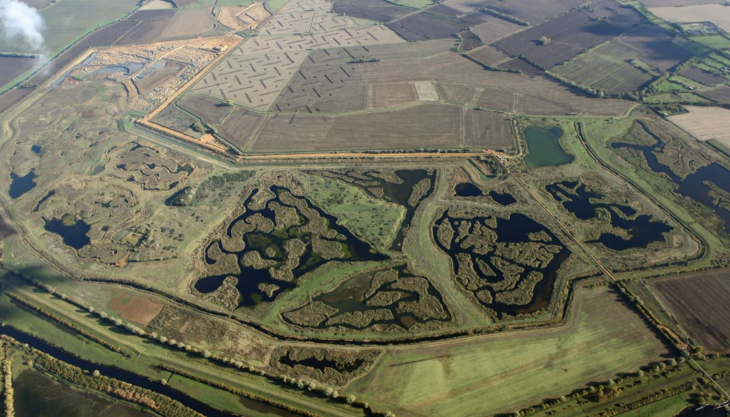 Ouse Fen nature reserve gains a further 80ha of restored land from Needingworth Quarry
HANSON are marking 20 years of their wetland project with the RSPB at Ouse Fen in Cambridgeshire with the transfer of a further 80ha of restored land from their Needingworth Quarry to the nature reserve.
The company's partnership project with the RSPB is the largest planned nature conservation restoration scheme of its kind in Europe and, once complete, the reserve will incorporate the UK's largest created reed bed – an extremely rare habitat, much of which has been lost in Britain.
The announcement of the handover of the additional land comes on World Wetlands Day (2 February) and brings RSPB Ouse Fen to 298ha – nearly three square kilometres and equivalent in size to 417 football pitches. By the time the project is complete in 2030, this is area expected to more than double.
Jonathan Taylor, RSPB senior project manager, said: 'This project is a great example of how industry and the conservation sector can deliver sustainable projects for the local economy, society and the environment. It shows how collaborative work taking place in a long-term partnership can deliver bigger and better habitat restoration through a project of this vast size.
'The wetland species that have established themselves at RSPB Ouse Fen are proof of the quality of the habitat that this project has restored over the last 20 years, and nature continues to drive us to deliver more wetland by moving into newly restored areas even before they are completely finished.'
RSPB Ouse Fen is already home to a nationally important population of bitterns, a rare heron species, as well as other iconic wetland wildlife including marsh harriers, bearded tits, otters and water voles.
The project also provides significant benefits for local people by allowing them to get closer to wildlife and green space. New visitor access, including two new trails, is due to be opened later this year. Ultimately, there will be 32km of public access.
Hanson unit manager Hilton Law said: 'The Ouse Fen reserve is an outstanding example of minerals extraction leading to habitat creation on a landscape scale and highlights the benefits that managing the land left behind from quarrying can make in shaping and improving habitats for wildlife.
'We are proud to support the RSPB, Cambridgeshire County Council and others involved in the project, which will make an invaluable contribution to achieving UK biodiversity targets and securing the future of important wildlife habitats and species.'