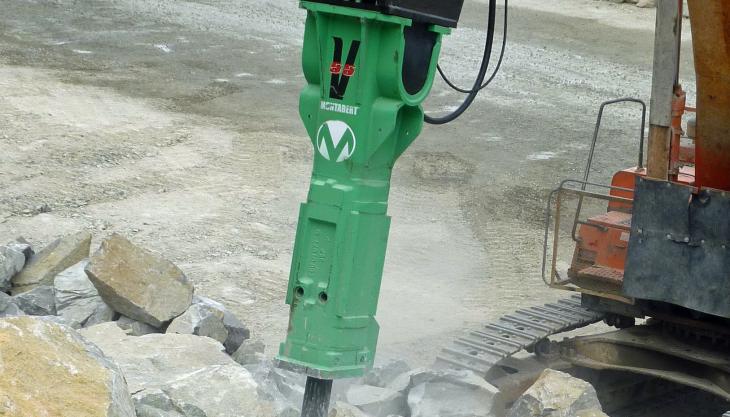 Reliability, power, and low maintenance costs key to leading supplier recommending Montabert breakers
JOHN Fox, a family run business with more than 45 years' rental experience of excavator attachments for the quarrying, construction, demolition, and recycling industries in the UK. They were one of the pioneers of hydraulic hammer hire and have been offering Montabert breakers in the UK for more than 40 years.
The company initially obtained its stock from the main importer to the UK, but this company later closed. John Fox did consider becoming a dealer for Montabert themselves but wanted to retain the flexibility to offer other brands to their customers. Today, they turn to Worsley Plant, who became the UK's first fully accredited Montabert dealer in April 2020.
Over the years John Fox have looked at cheaper alternatives for breakers weighing more than two tonnes but have always reverted to Montabert as their leading breaker brand. The company's operations manager, Gareth Hann, has more than 30 years' experience working with Montabert breakers and has nothing but positive things to say about them.
'Montabert breakers are extremely reliable. With all their years of experience, the breakers have evolved and adapted to embrace new technology. Over time, I've seen them have fewer and fewer moving parts, making them virtually maintenance-free today. They are easy to work on and provided the operator greases the tool bushes regularly, we rarely have a breakdown,' he said.
The V55 is one of the favourite models at John Fox, who say cheaper alternatives do not compare. Whilst they have tried them, they say they always go back to Montabert. A good example of this is a local quarry where John Fox had been supplying their cheaper alternative brand, but then introduced the V55. As a result, the quarry's secondary breaking output has more than doubled. Another quarry in the area has also replaced its own premium-brand breaker with a Montabert V55.
'You get what you pay for,' concluded Mr Hann. 'Montabert breakers are more reliable, have more power, and their variable speed is a bonus. The breaker can sense the density of the material and adjusts its speed accordingly, thereby making it more economical and giving better fuel usage.'
He added: 'Parts are easy to get hold of and, due to the sealed unit accumulator, the breakers are extremely easy to maintain, meaning less downtime for the customer. We now work with Worsley Plant for all our Montabert requirements, and they always provide us with a great level of service.'