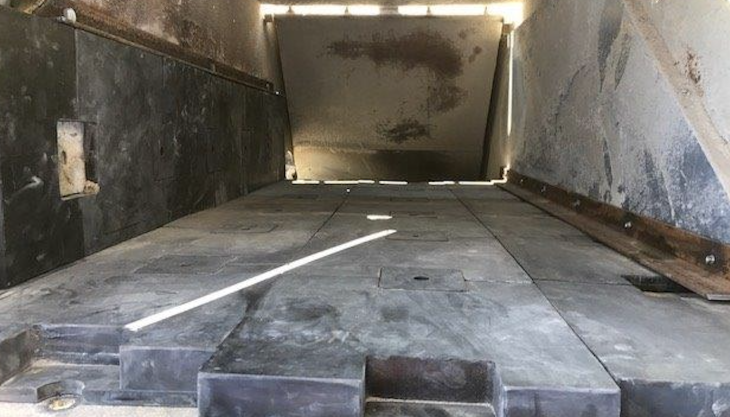 Linard panels with optional ceramic and chromium white iron inserts improve wear life in high-impact applications
DEVELOPED by Weir Minerals and now available worldwide, Linard modular anti-abrasion panels are said to provide a cost-effective and convenient solution for reducing downtime caused by high impact and abrasive wear in mines and quarries. 
Available in 30mm and 50mm thickness, Linard modular anti-abrasion panels are designed to minimize wear and maintenance in localized impact and wear points. The product's extended wear life is due to the wear material – Linard HD60 rubber in a rigid self-sealing construction with steel backing, together with optional composite ceramic (92% alumina) or high-chromium white iron inserts that further add to the wear life of the panels.
'Our new Linard panels have been designed from the ground up to last in some of the most arduous wear applications,' said Mark Doyle, global product manager for rubber, spool and hose at Weir Minerals.
'Depending on the customer's needs, we offer composite panels with either ceramic or high-chromium white-iron inserts, which combine with our Linard HD60 rubber compound to deliver world-class impact and abrasion resistance in chutes, hoppers and under-pans.'
Optimized through comprehensive field trials, the 300mn square panels interlock to facilitate quick and easy installation and replacement, whilst reducing the potential for fine material to ingress between the panels.
Linard modular anti-abrasion panels are supplied in a convenient kit including a range of hold-down plugs, and the capability to supply drawn arc studs where needed to provide a convenient off-the-shelf but customizable solution to the application.
Used to replace a competitor's Teflon wear panels in chutes across two quarries run by Boral Australia, Linard modular anti-abrasion panels improved wear life by 10 times, saved more than AU$12,000 per annum in direct costs and achieved significant uptime increases due to a 90% reduction in shutdowns.
'Our engineers can replace these panels in minutes, reducing the amount of time they need to spend in chutes and other confined spaces,' explained Paul Duthy, wear solutions product manager at Weir Minerals.
'They are a bolt-in bolt-out solution and being modular, they're easy to fit on to any flat surface that requires extra protection. This also makes it easy to swap around composite and standard panels to ensure the highest wear areas are the best protected.'