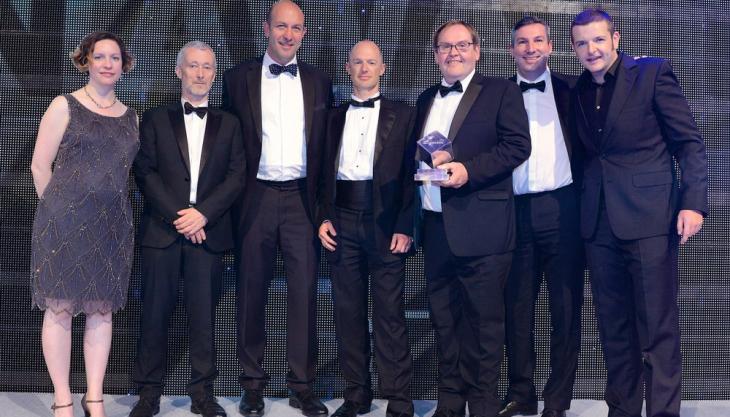 Earthmoving attachments manufacturer wins award for Commercial Innovation of the Year
EARTHMOVING attachments manufacturers Miller UK have been recognized for their commitment to innovation after winning the prestigious Commercial Innovation of the Year award at the 2016 Construction News Awards.
The award was won in conjunction with plant hire firm Hewden after the two companies demonstrated genuine collaboration to create an enhanced hydraulic breaker which beat eight other finalists in the highly competitive category.
Miller faced a challenging brief set by Hewden. Within just three months, Hewden needed a product which would effectively reduce the number of breaker variants required for excavators and backhoes from 1.5 to 20 tonnes, and reduce the number of head brackets needed to suit different machines.
Full automatic lubrication across all models as well as the ability to recover stolen or lost assets was also a must.
The judges felt that Miller's breaker design perfectly demonstrated what can be achieved when companies work together to find a solution – a feat made all the more impressive by the three-month timescale set by Hewden.
The judges said: 'This is a suite of innovative solutions that addresses all the issues Hewden had. Miller have got velocity and agility; they have picked up the challenge and said, 'Yes, we'll have a go at that', and they have done it in three months, which is remarkable.'
Miller's hydraulic breaker was designed to incorporate three key features to address each aspect of Hewden's brief, and in so doing set it apart from anything else on the market last year.
The combination of an innovative top bracket designed to fit multiple OEM machines and sizes, a tracker device to prevent loss or theft (which has already resulted in eight stolen breakers being successfully recovered), and an automated lubrication system to extend the life of the breaker and maximize tool uptime, ticked all the boxes for both companies and impressed the judging panel.
Brendan Quill, sales and marketing director at Miller, said: 'I couldn't be more proud of the way the whole team worked together to tackle Hewden's brief and create a genuinely innovative product. To be recognized as having produced the industry's best commercial innovation of the year is a true testament to their determination, innovative thinking and teamwork, and is a huge achievement.
'As a company, we constantly look to the future and place a great deal of importance on investing in research and development so that we can continue to drive innovation and offer our forward-thinking customers a range of products designed to meet their needs exactly.'