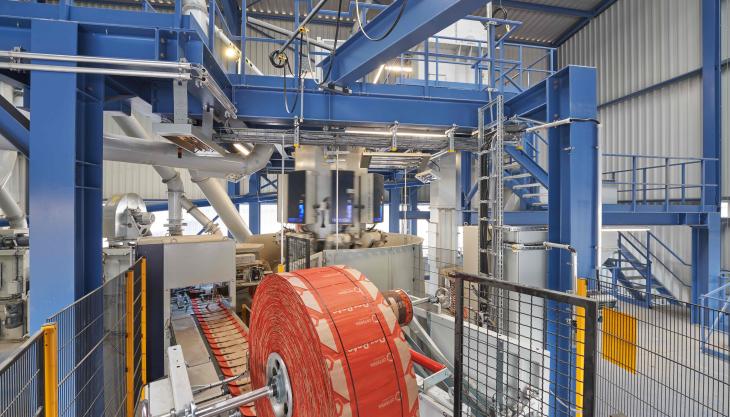 Smart Plant from Haver & Boecker impresses at OPTERRA Zement's Karsdorf cement plant
AT OPTERRA Zement GmbH's Karsdorf plant, a compact, high-performance, cost-effective, and quickly available Haver & Boecker Smart Plant filling and packing plant for bagged cements has been proving its significant advantages since March 2021.
With a production capacity of 1.6 million tonnes of cement, the OPTERRA plant, located some 70km south-west of Leipzig, is one of the largest cement plants in Germany. However, after more than 20 years operation, the maintenance effort required to maintain the plant's existing packer had become too much and a major refurbishment was required.
When working out a modern replacement for the ageing system, further optimization potential became apparent. Markus Horstkötter, area sales manager of the cement business unit at Westphalia-based Haver & Boecker, said: 'After realizing a replacement of the belt check-weigher and other elements would bring significant improvements to the overall performance, our customer developed a plan to move the entire plant closer to the palletizing hall.'
A key project challenge was the extremely limited space, which did not offer sufficient room for a conventional filling and packing plant. Moreover, the existing bucket elevator also limited the overall height of the new plant. However, the innovative Smart Plant ultimately provided the right solution: a compact, space-saving layout that could not only be achieved effortlessly in the space available but was also totally compatible with the other requirements.
'The standardized, pre-configured concept of the Smart Plant makes it particularly inexpensive to manufacture and operate. Such a plant is quickly available and installed – and, at the same time, extremely flexible due to its modular design,' explained Mr Horstkötter. 'Also, in terms of production efficiency and quality, the compact system at OPTERRA's Karsdorf factory meets the usual high standards.'
The primary goals for the new system were quickly defined. 'A high output of at least 2,800 bags per hour along with the best-possible weighing accuracy; and intuitive, economical operation with fewer operators were of particular importance to the customer,' said Mr Horstkötter. 'Furthermore, reliable on-time delivery and uncomplicated commissioning were crucial.'
As part of the turnkey implementation, Haver & Boecker's specialists took over the execution and co-ordination of all tasks, including construction of the new hall, including fire and lightning protection, lighting, heating, automatic gates and doors, maintenance and operating platforms etc.
After intensive planning, the construction work for the new building began at the end of November 2020. Pre-production was carried out at speed to ensure a continuous supply of bagged OPTERRA cements. In mid-December, the old plant was shut down so that commissioning of the new Smart Plant could start on schedule in March 2021, in the new building which measures just 12.5m in height, 18m in length and 15m in width.
'This was a precision delivery under difficult conditions,' said Haver & Boecker project manager Guido Küpper. 'Because of the coronavirus pandemic, numerous processes were complicated and unexpected safety precautions were necessary. But, thanks to constant communication with the client, smooth co-ordination, and excellent work from all the service providers involved, the ambitious schedule was easily adhered to. The new smart filling and packing plant also more than lives up to its high standards.'
At the heart of the compact Smart Plant is a powerful Roto-Packer RVT with eight filling spouts, a fully automatic Radimat bag applicator with double roll system, and an integrated Roto-Lock metering unit. The new line can exceed the specified capacity with up to 3,000 filled bags per hour, and due to the high degree of automation and the intuitive user guidance, it was also possible to achieve the desired reduction in operating personnel. Designed for accuracy class X(1) in accordance with OIML requirements, the line currently fills six different products to the customer's complete satisfaction.
Moreover, in terms of clean production, the cement plant benefits from the in-depth knowledge and experience of Haver & Boecker's specialists and from their advanced technology. 'Precise dosing and filling reduce product loss and contribute to a healthier work environment and a spic and span system periphery,' said Guido Küpper.
Dr Frank Noack, head of investments at OPTERRA Zement GmbH, said: 'The modern filling and packing plant with its new control technology will provide OPTERRA with operational reliability in the bagged cements sector for many years to come.'