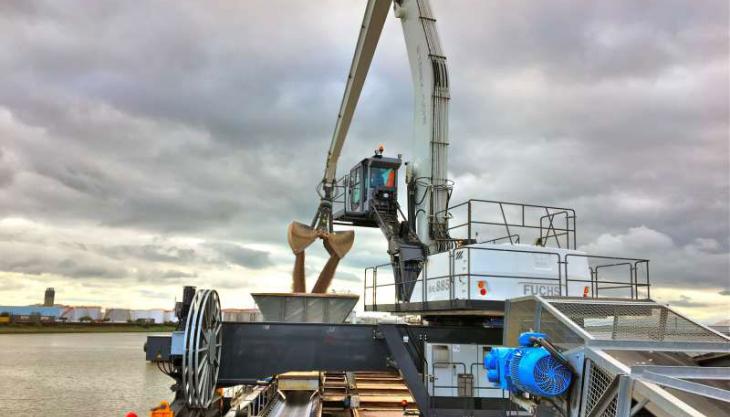 Highly customized electric SHL885 Fuchs material handler for ship unloading duties at  Dagenham Wharf

CEMEX UK have recently taken delivery of the world's first electrically powered Terex Fuchs SHL885 material handler, supplied by UK distributors Blue Fuchs.
Representing a total investment of £1.5 million, the new 95-tonne material handler is mounted on rails on a jetty at CEMEX's Dagenham Wharf operation, on the river Thames, where it is used to unload ships delivering limestone from Raynes Quarry, in North Wales.
Capable of travelling along virtually the entire length of the jetty, the machine's three cubic metre capacity Arden grab can access all areas of the ships to handle the projected 250,000 tonnes of material arriving each year.
The limestone is deposited into a 50-tonne capacity dump/feed hopper and transported, via three conveyors totalling 320m in length, to the site's recently constructed ready-mixed concrete batching plant.
Featuring a cranked boom that offers 23.6m of reach, the Fuchs SHL885 material handler utilizes Rexroth hydraulics powered by an electric motor – one of three installed in the machine – that generates 250kW at 1,500 rev/min.
The second motor (22kW) supplies pilot pressure for machine operation while the third (7.5kW) powers the air-conditioning system. All electric current is delivered via a double cable roll, which is connected to a switchboard located on the machine's undercarriage.
As expected with Terex Fuchs material-handling machines, the SHL885 incorporates a hydraulically height-adjustable cab giving a maximum eye level of 8.8m from the quay. The cab is also horizontally adjustable by up to 2.2m and features panoramic windows for optimum all-round vision.
Commenting on the purchase, site manager Steve Batty said: 'While Blue Fuchs offered us a great deal, the decision certainly wasn't made purely on price. We were very impressed with the machine and we have seen how popular Fuchs equipment is becoming up and down the river.'
CEMEX say they opted for electric rather than diesel for a number of reasons. First, the machine generates much less noise and delivers instant torque. And secondly, fixing an electric supply to the jetty was deemed to be much more feasible than constantly having to transport diesel fuel out to the machine.
Pat James, key account manager at Blue Fuchs, said: 'We are delighted that CEMEX choose Fuchs. This is a highly customized machine that required all parties – ourselves, Terex Fuchs and CEMEX, as well as Quality Freight Services who delivered the machine – to work together very closely.
'This process has clearly demonstrated how Fuchs equipment can be adapted to perfectly suit a customer's requirements.'