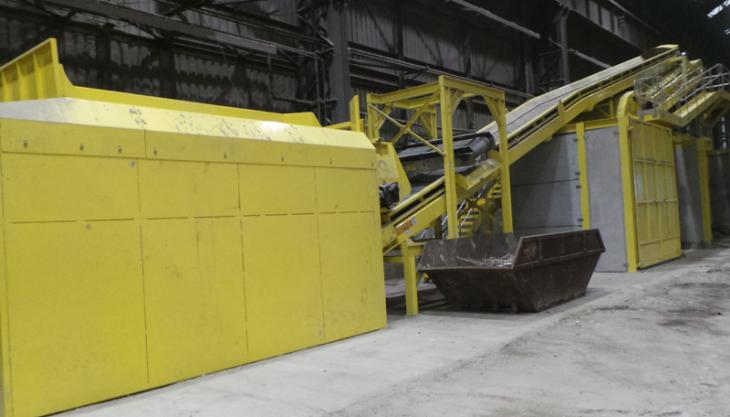 New bespoke recycling plant maximizes waste recycling operations for Scottish contractor
MALCOLM Construction, part of the family-owned Malcolm Group, have commissioned Matpro Machinery to supply a processing solution for their construction and demolition (C&D) waste recycling operations in Glasgow. 
Due to the increased volume of waste on site, coupled with Malcolm's aim to divert as much material from landfill as possible, the company identified the need to expand its production capacity and replace an 11-year old aggregate recycling plant. 
Keeping in line with their ongoing policy of delivering good sustainable practice, it was important for Malcolm to operate a new bespoke system capable of handling in excess of 1,500 tonnes of waste materials a week and more recyclable could be removed from their C&D waste stream. In addition, due to the stringent LOI testing protocol for the treatment of 'trommel fines', the company required a separate fines clean-up system. 
To meet these customer requirements, Matpro Machinery have installed a CRS recycling plant and CRS kinetic flip flow system. Capable of both manual and automated extraction, the recycling plant features a 1.2m wide hopper and integrated 8m x 2m trommel, removing –50mm fines. 
The materials recycled include wood, general waste, plasterboard, large metals and plastics. Any remaining oversize material enters into a 4.6m wide, six-bay double-sided picking station with extended bays. Covered by a fully enclosed cabin for operator safety and comfort, the picking station is equipped with six external drop chutes for the removal of sporadic material. 
Non-selected waste will travel under an overband magnet where ferrous metals are removed before a blower extracts any final aggregate materials, which are then dropped into the last bay as clean hardcore. 
The CRS kinetic flip flow system consists of a hopper with integrated auger that agitates, spreads and regulates the material feed. The material travels up an incline belt where ferrous metals are removed via a twin pole overband magnet. 
Maximizing the recovery of valuable useable waste materials, a 6m x 1.8m CRS kinetic screen removes –10mm material as inert, while 10–50mm sized products are split by an integrated CRS air drum separator. 
Commenting on the new plant installation, Allan Brown, general manager of Malcolm Construction, said: 'Matpro Machinery were a great choice to partner with as they delivered a 'hands-on approach' and ensured they offered us a plant that was tailor-made to suit our needs. 
'We are very happy with the build quality of the CRS recycling plant and the fines clean-up system is extremely effective. We are recovering more aggregate materials that are being reused in-house and reclaiming an increasing amount of waste that was previously going to landfill.'