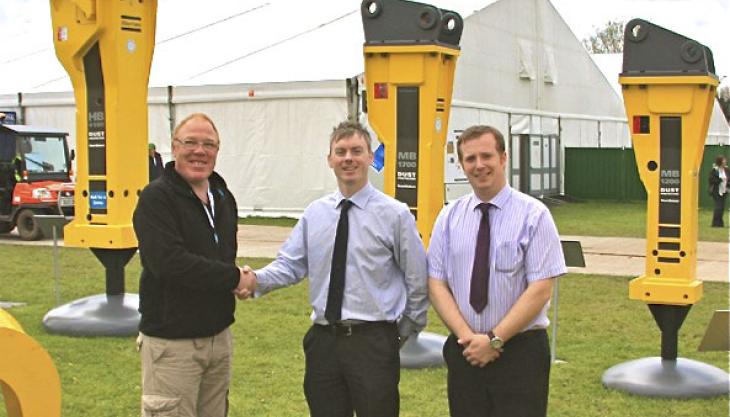 Plant-hire firm purchases 22 hydraulic breaker and compactor attachments for use on major rail project
AS part of a £12 million investment in new equipment during the last 12 months, Lynch Plant Hire and Haulage, a leading name in the UK plant-hire sector, have purchased 22 Atlas Copco hydraulic breaker and compactor attachments, and the company says it plans to make an even larger purchase of Atlas Copco products in the near future.
Many of the attachments from the current batch, which includes five MB 1200E medium breakers, six MB 750E medium breakers, ten SB 302 small breakers and one HC 350 compactor, are already in use on the Crossrail project, which will see 42km of new rail tunnels constructed under London.
Much of the equipment from the future order is destined for use in the construction of the new nuclear power station at Hinckley Point near Bristol.
'We have chosen to invest in Atlas Copco equipment because our rigorous testing of the company's products has confirmed that they provide excellent performance and reliability in even the toughest of operating conditions, which is what our customers justifiably expect,' said Merrill Lynch, operations director of Lynch Plant (centre of picture).
'The dependability and ruggedness of the Atlas Copco products are especially important for the Crossrail project, because the large amount of dust and the high temperatures in the tunnels means that they present a particularly difficult operating environment for all types of construction equipment – only the very best survives in these conditions.'
The Atlas Copco equipment provides two further key benefits that are of particular importance for the Crossrail project. The first is high productivity, as the attachments are used alongside the main tunnel boring machines and must be able to keep pace with the rapid progress these are making. The second is quiet operation, as much of the tunnelling is being carried out beneath residential and commercial buildings, where high noise levels are unacceptable.
The breakers incorporate Atlas Copco auto control valve, energy recovery and dampening systems which prevent damaging vibrations that could be detrimental to both the carrier and the operator.