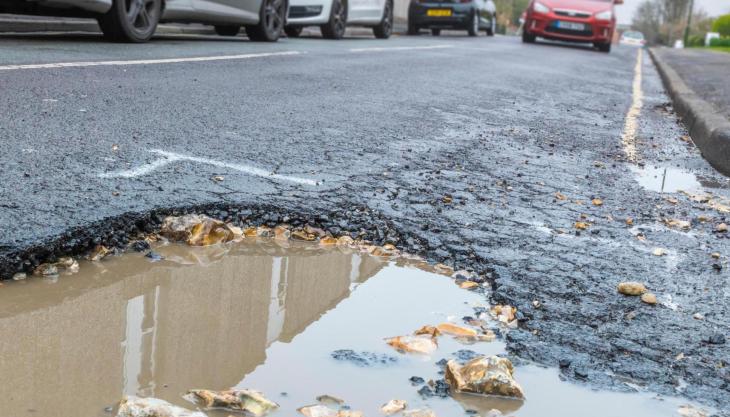 Annual Local Authority Road Maintenance survey shows local roads investment still falling short
THERE are signs that an increase in local authority highway maintenance budgets is stemming the decline in the condition of the local road network, but the increased investment is still falling short of the amount needed to maintain local roads to target conditions, according to this year's Annual Local Authority Road Maintenance (ALARM) Survey, published today [26 March] by the Asphalt Industry Alliance (AIA), a partnership between the Mineral Products Association (MPA Asphalt) and Eurobitume UK.
The survey reports that, for the second consecutive year, local authorities' average highway maintenance budgets have increased by almost 20%, to £24.5 million per authority, up from the £20.6 million reported last year. For councils in England and London this included a share of £420 million additional funding allocated in the November 2018 Budget.
Now in its 24th year, the ALARM report shows there are early signs that the extra money is halting further decline, after years of underfunding have led to a local road network 'on the edge'. However, the one-time catch-up cost to fix the network continues to rise and now stands at £9.79 billion.
Rick Green, chairman of the AIA, said: 'There are glimmers of hope but, while overall highway maintenance budgets are up, there is still a big discrepancy between the haves and have nots. Some local authorities received the equivalent of £90,000 per mile of their individual networks, while a third continue to struggle with reduced budgets, with several having less than £9,000 per mile to maintain their local roads.
'Achieving target conditions on all categories of local roads – those that we all rely on every day – still remains out of reach. To put this into context, if local authorities had enough funds to meet their own targets across all road types it would give us more than 20,000 miles of improved local roads.'
Mr Green continued: 'It is encouraging that those in control of the purse strings seem to have recognized the value that additional expenditure on roads can deliver. But it's clear from the 29% increase in the number of potholes filled in England and London, that much of this has been used for patch and mend. This doesn't provide value for money, nor will it improve the underlying structure and resilience of our roads.
'With the amount needed to bring the local road network up to scratch still approaching £10 billion, sustained investment over a longer time frame is needed if we want a local road network that supports enhanced mobility, connectivity and productivity.
'Last year the AIA set out that £1.5 billion additional funding was needed for local roads each year for the next 10 years to allow them to be brought up to a condition from which they can be managed in a cost-effective way. We stand by this call,' said Mr Green.
Councillor Martin Tett, the Local Government Association's transport spokesman, said: 'Councils share the frustration of motorists about the state of our local roads and, as this survey shows, fixing our roads is a priority for them. Faced with severe financial pressures, councils have managed to spend more on road repairs in the past year in order to fix a pothole every 17 seconds.
'Despite these efforts, it is clear that our roads are deteriorating at a faster rate than can be repaired by councils, with the cost of clearing our alarming national roads repair backlog on the rise and now at almost £10 billion.
'Extra one-off funding announced in the Budget will help councils continue to try to improve roads this year, but the Spending Review needs to provide councils with long-term and consistent funding to invest in the resurfacing projects which our road network desperately needs over the next decade.
'Reinvesting two pence per litre of existing fuel duty into local road maintenance would provide £1 billion a year for councils to spend on improving roads and filling potholes and begin bringing our roads up to scratch.'
Paul Fleetham, managing director of Tarmac Contracting, commented: 'It's encouraging that local authority highways budgets have increased for the second consecutive year. However, these budgets remain tight and road maintenance continues to be a major issue for the UK. While local road networks remain the backbone of our regions' economies, the one-time costs to return roads to a reasonable standard is extremely high at almost £10 billion.
'There is a clear opportunity to focus on a longer-term, proactive approach to local roads funding which recognizes the social value of the local road network and supports the delivery of proper preventative and structural maintenance strategies for this vital asset.'
A copy of the ALARM Survey 2019 can be downloaded below.