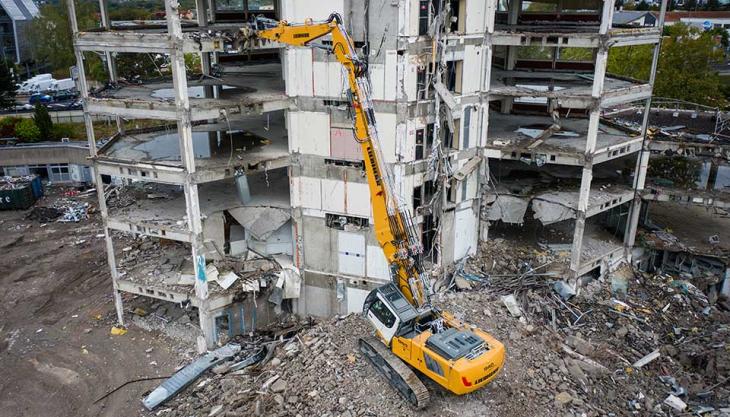 Latest R 940 high-reach machine replaces outgoing R 944 C Litronic model
LIEBHERR-France SAS, which has been manufacturing demolition excavators since 1961 for many different applications, such as earthmoving and tunnel construction, have announced the global launch of the R 940 crawler excavator.
Replacing the outgoing R 944 C Litronic excavator, the new R 940 machine complements Liebherr's growing range of existing demolition equipment including the R 950 and R 940.
According to Liebherr, these demolition excavator models have set new standards in operational efficiency and profitability for end-users.
The R 940 crawler excavator is powered by an EU Stage V emissions-compliant engine that delivers 200kW and features diesel oxidation catalyst (DOC), selective catalytic reduction (SCR) and diesel particulate filter (DPF) technologies. The demolition excavator is also available in a Tier 4 Final version, as well as for less regulated markets with a corresponding engine.
One of the key features of the R 940 is the Liebherr Demolition Control (LDC) system which displays the position of the attachment tool, ensuring the safety and stability of the excavator. It reduces the probability of an operator error that could downgrade the performance of the machine.
With the active safety features of the LDC, the operator also has real-time information in their line of vision on the tilting angle of the excavator and demolition attachment, increasing the stability of the R 940.
As with all models in the Liebherr-France SAS range, the R 940 demolition excavator is equipped with numerous optimal features for selective deconstruction, including a tiltable cab with a 30-degree tilting angle and a hydraulically adjustable undercarriage and demountable additional counterweight.
The machine can also be fitted with a dust-suppression system for challenging working environments, and for the benefit of the operator the cab can be sealed with an air compressor and filtration system.