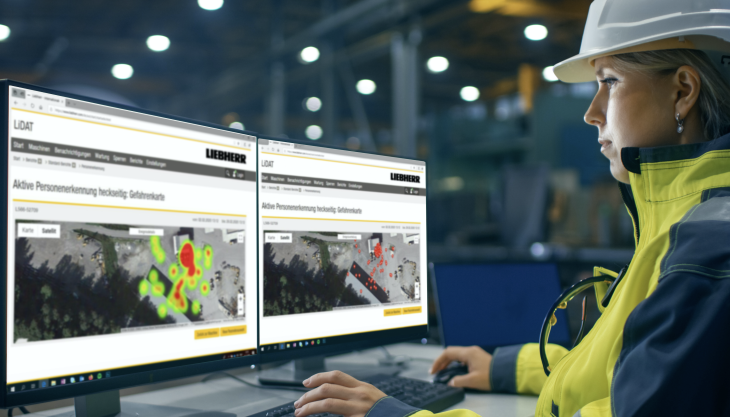 Brake assistant and incident map added to active personnel detection for mid-range and large machines
STATISTICALLY, accidents involving wheel loaders occur most frequently when the machine operator reverses after a loading process. This reverse travel is particularly risky if people are located in the wheel loader's rear operating area.
In these situations, there is a huge responsibility on the machine operator. To ensure maximum safety, Liebherr have added two extra functions – brake assistant and incident map – to the active personnel detection system for their L 526 to L 586 XPower range of wheel loaders.
The moment the active personnel detection system identifies a source of danger, the new brake assistant function immediately slows the wheel loader to a standstill. Thus, the braking process is initiated earlier and quicker and there is no delay caused by human reaction time. This means there is an important reduction in the stopping distance which, in turn, reduces the frequency and severity of accidents.
With the brake assistant, the hydrostatic components of the drive train automatically reduce the speed. This means the machine operator can continue to operate the wheel loader service brake in the normal way and can do this in addition to the brake assistant.
Besides the brake assistant, the second new function for active personnel detection at the rear is the incident map. Each time the assistance system detects a danger and a warning signal is issued, the system transmits a GPS signal to LiDAT, Liebherr's in-house transfer and location system. On the basis of this signal, and for each operator of a wheel loader with active personnel detection, Liebherr provide a Google map in LiDAT showing these GPS points.
The result is an incident map displaying the risk zones and potential sources of danger on site. The operator can use this to take measures to prevent accidents and, therefore, increase safety. For example, the operator might reroute footpaths, cordon off areas and alter dangerous work sequences, whilst the head of operations on site can use the incident map to train employees and make them aware of risky situations.
Liebherr offer several other intelligent assistance systems for their mid-range and large wheel loader series. In addition to active personnel detection, these include adaptive working lighting, front-space monitoring, the skyview 360° camera system, the tyre pressure monitoring system with sensor support and the new weighing device.
Liebherr say their goal with these assistance systems is to increase safety and comfort and to support the machine operator. All the systems have been developed by Liebherr and are, therefore, fully integrated in the machine control.