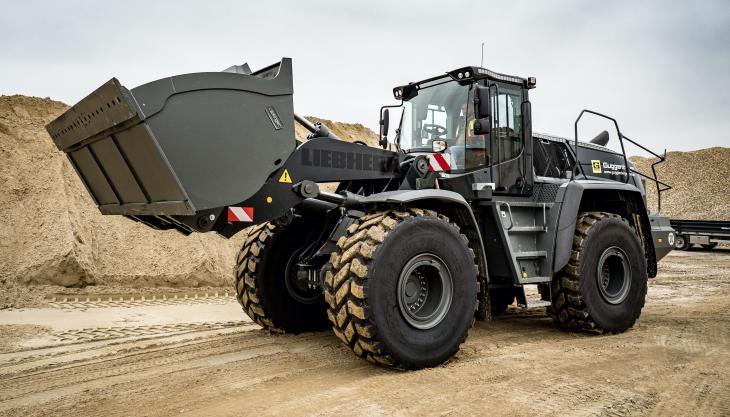 Guggenberger GmbH take delivery of two L 566 XPower wheel loaders in corporate colour scheme
GUGGENBERGER GmbH, based in the Regensburg district of Germany, have recently purchased two Liebherr L 566 XPower wheel loaders in the construction company's distinctive corporate colour scheme from Liebherr sales partner Carl Beutlhauser Baumaschinen GmbH.
The loaders are in operation at Guggenberger's asphalt plant, which handles around 50,000 tonnes of bulk materials each year. For this work, both L 566 XPower machines are equipped with a 4.6 cubic metre capacity bucket plus new joystick steering and weighing device. Each loader weighs around 24 tonnes and consumes just under 11 litres of diesel per operating hour.
The performance of the wheel loaders is complemented by their striking design, with both machines looking resplendent in Guggenberger's distinctive anthracite black corporate colour.
Whilst specifying machines in bespoke corporate colours is designed increase brand awareness for a company, such paint jobs are often performed post-production, which can be time-consuming and detrimental to the quality of the machine.
However, Liebherr-Werk Bischofshofen GmbH follow a different strategy. Unusually, special paint jobs in customer-specific colours are not completed in a single stage at the end of the production process; instead, the relevant component parts are painted before being assembled. As a result, subsequent painting or manual reworking of the wheel loader is not necessary.
By offering special paint finishes ex works, Liebherr say they are able to efficiently implement customer-specific paintwork jobs of all types, while ensuring consistently high quality.