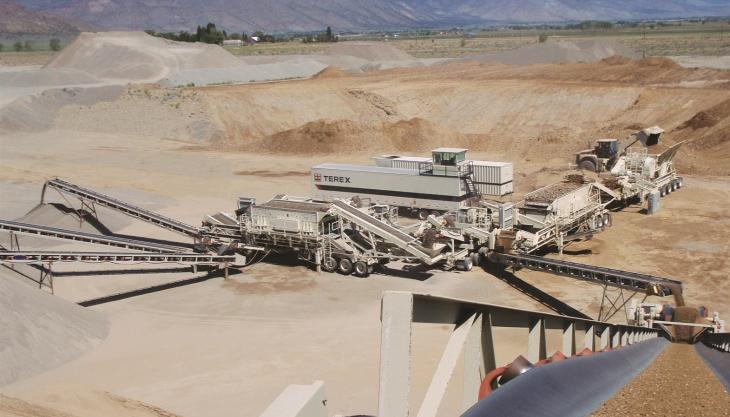 High-capacity, highly mobile Terex MACS plant now offers new-generation MVP450X cone crusher
THE Terex MACS (Mobile Aggregate Crushing System) plant from Terex Mineral Processing Systems is designed to be a highly mobile, high-capacity, 'complete' crushing and screening system, not just a collection of individual processing units.
MACS units are highly integrated to increase production and reduce set-up time. No cranes are required for set up and all inter-plant conveyors are on board.
The MACS plant, which utilizes larger crushers and screens than those typically used in track-mounted or wheeled plants, now offers the newest generation Terex MVP450X cone crusher.
The MVP450X is said to boast numerous features that increase productivity and ease of use. Major new enhancements include high-speed clearing of jammed material and quick crusher separation capability for faster manganese changes.
With a trailer designed for ease of mobility, the crushing and screening unit's travel dimensions are below 4,115mm in height and less than 3,660mm in width.
Inter-plant conveyors are designed into the units so that separate transfer conveyors are not required. Folding conveyors and walkways are set up using on-board hydraulics, while large hydraulic support legs level and stabilize the units to speed set up.
The entire system utilizes industrial electric drives so that the system can be powered by either high-efficiency generators or mains power when available. The layout of the system provides operator visibility of the entire circuit from a central pop-up control house.
High-quality belt scrapers and skirted conveyors are utilized throughout to reduce spillage, and components such as gearboxes, belt idlers, pulley bearings, three-ply vulcanized belts are selected for long life and low maintenance. Instant cone reset, strategic rock shelves and the TOPS 2.0 oil-filtration system are additional maintenance-reducing features.
Common components are utilized throughout the plant to simplify support and reduce the number of different parts. The control trailer is stocked with common parts and is organized in an easy-to-use visual inventory management system. Even a completely furnished mechanic's tool chest and stocked hardware cabinet are included in the trailer.