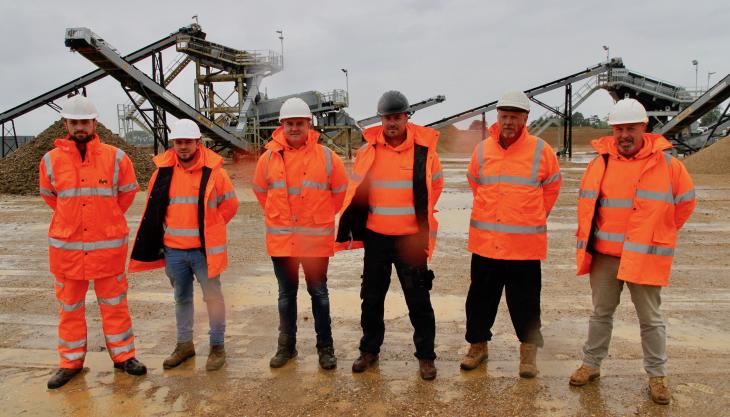 Official opening of company's new sand and gravel wash plant at Pasture House Farm Quarry
ON 10 June, past chairman of the FA Premier League, Sir David Gerald Richards, officially opened Land Logical Ltd's brand-new Terex washing plant at Pasture House Farm Quarry, near Thorney, just outside Peterborough, in the presence of a number of industry professionals and friends.
The state-of-the-art, fully electric processing plant, which is capable of producing two sands and four aggregates at rates of up to 170 tonnes/h, represents a significant investment in the area by Land Logical Ltd, an independently owned and managed company that provides creative, practical and cost-effective solutions and services for landowners and the construction industry.
Nick Katz, chief executive of Land Logical, said: 'Five years ago, a deal was made with two local farmers to secure the rights to win the minerals at Pasture House Farm. From the outset, this deal was made with a great deal of trust from all parties, with a promise from Land Logical to deliver an award-winning quarry.
'All of us at Land Logical are committed to working in harmony with our neighbours and the environment. To this effect, I am pleased to announce that our new wash plant is completely powered by clean energy. I believe this is the only plant of this nature currently operating in the UK.'
The opening event was fully supported by directors and staff from Duo Equipment, part of Duo Group Holdings Ltd, who worked alongside Land Logical to advise, supply and commission a Terex washing plant based on a twin compact Fines Master FM 120C and a Powerscrub PS120R.
'Duo have been a great support from the beginning with their experience and considerable knowledge of the industry,' continued Mr Katz. 'They have gone above and beyond the call of duty as plant supplier and it is fitting, therefore, that they are here with us today.'
Mr Katz went on to acknowledge and thank other key partners involved in the project, including Peterborough Council, consultants PDE, the highways construction team from S. Walsh & Sons and the technical support team from Hydrock.
The new quarry has 3.7 million tonnes of sand and gravel reserves suitable for a wide range of concrete and construction uses. Once the mineral reserves have been exhausted, the farm will be restored to agricultural use.