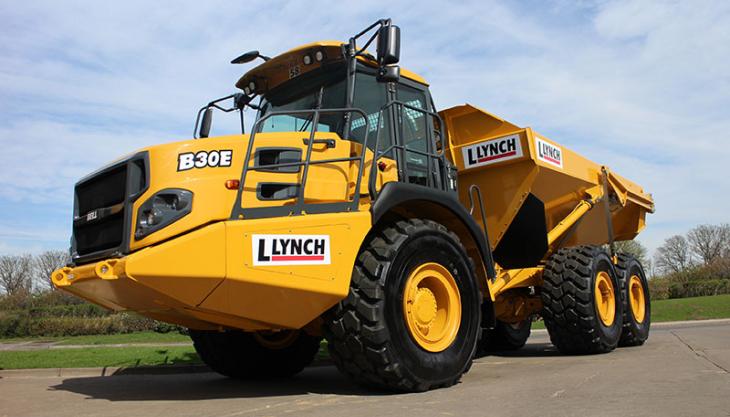 Leading plant hire firm strengthens construction machinery fleet with the addition of 20 Bell B30E ADTs
A MAJOR name in the UK plant hire industry, L Lynch have ordered articulated dumptrucks from Bell Equipment for the first time. The deal for 20 new Bell B30E ADTs is part of a substantial investment by the plant hire firm to capitalize on the current upswing in construction and infrastructure projects across the UK.
With depots nationwide and a 2,000-strong fleet of construction machines, L Lynch rely heavily on the supply of high-quality plant equipment.  The selection of Bell articulated dumptrucks followed an extensive investigation into the UK ADT market.  
'We were looking for robust, reliable machines that are versatile enough for use in a number of working environments and cost-effective enough to be suitable for hire,' said Merrill Lynch, director of L Lynch.
'While we have never bought Bell products directly before, we have experience of their ADTs from rehire, as well as a strong feeling from customers that the Bell brand is well regarded. The 30-tonne B30E ADT was chosen for the practicality of its size. It's a versatile mid-range option that appeals to a wide cross-section of our customers, and we are sure it will prove popular.'
The new Bell machines are fitted with the company's Fleetm@tic software, which will allow L Lynch plant managers to monitor the efficiency of each ADT. Fleetm@tic also provides real-time data on fuel usage and loading capacity, as well as alerts on breakdowns or servicing. The first B30Es to be delivered are already hard at work and the initial response from site personnel has been excellent.  
Nick Learoyd, managing director of Bell Equipment UK, said: 'L Lynch have an exceptional reputation in the UK plant hire market and rightly so. We're delighted that they have chosen Bell for the first time and we are confident that this is only the start of a long and mutually advantageous relationship.'