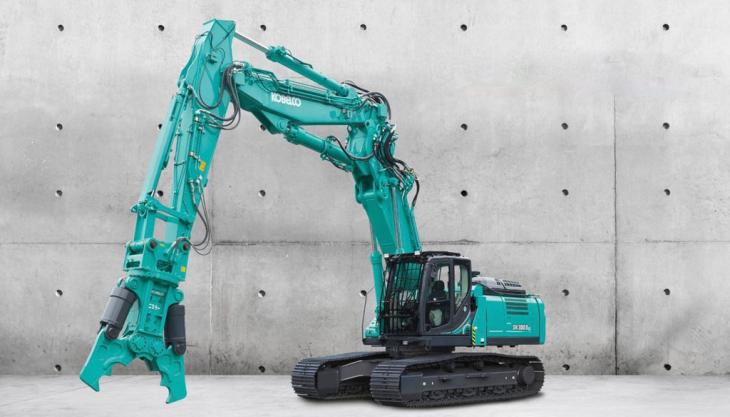 Japanese equipment manufacturer launches its smallest demolition machine in Europe
FOLLOWING the launch of the SK400DLC-10 and SK550DLC-10 models last year, Kobelco Construction Machinery Europe B.V. (KCME) have introduced the latest SK350DLC-10 – the manufacturer's smallest machine designed for the European demolition sector. 
Despite its compact size, the versatile machine incorporates many of the same features as the larger models in the range, which are designed to aid the safe and quick assembly/disassembly of attachments, provide easy transportation between projects and deliver significant cost savings.
Like the SK400DLC-10 and SK550DLC-10, the new SK350DLC-10 features Kobelco's NEXT system. This is a common base machine with dedicated attachments – which can be easily changed on site – for both high-elevation demolition work and breaking up foundations. 
The SK350DLC-10's NEXT ultra-high attachment is best suited to the demolition of multi-storey buildings from ground level. The demolition unit's ultra-long attachment configuration allows the machine to work at a maximum height of 21m (using a 6.1m long arm), with a maximum tool weight of 2.6 tonnes. 
The machine's separate boom configuration is suitable for demolishing the lower floors of buildings where the concrete is at its thickest – the maximum working depth of the SK350DLC-10 is 6,320mm.
The demolition unit is equipped with a Stage IV-compliant engine and offers the operator a choice of three operation modes for further fuel efficiency: H-mode for heavy workings; S-mode for balancing work volume with fuel consumption; and Eco-mode for prioritizing fuel efficiency over work volume. The SK350DLC-10 also features AIS (auto idle stop), which enhances this efficiency by avoiding unnecessary fuel consumption while the machine is idling.
Operator comfort and safety are always high on the agenda for Kobelco, so it is perhaps no surprise the manufacturer has invested significantly in the SK350DLC-10's demolition-spec cabin. 
The cabin is compliant with Level II FOPS and comes with high-strength security glass and radial grid guards across the front and top windows. It can also tilt up to 30, so the operator can maintain a comfortable posture during high-elevation demolition work.
Other key safety features include a cab interference prevention system, which prevents the working tool to come into contact with the cab during operation. The SK350DLC-10 is also equipped with rear-view and right-side cameras, a loudspeaker system, a falling object deflector and bright LED lights for increased visibility on site.