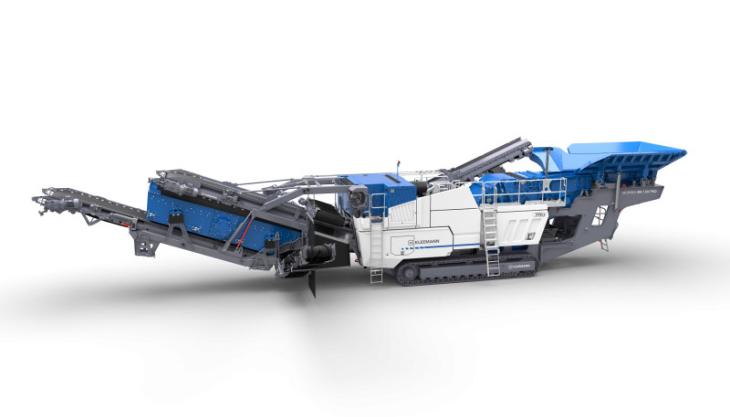 Equipment manufacturer introduces new Mobirex MR 130(i) PRO
KLEEMANN have added a new mobile impact crusher to their PRO line, with the machine set to debut at the bauma 2022 construction trade fair. The latest Mobirex MR130(i) PRO is used as a primary and secondary crusher, and combines output, precision, and sustainability.
Thanks to its all-electric drive concept with the option of an external power supply and thus carbon-free operation, the plant allows for materials processing with low-energy consumption per tonne of the final product.
Targeting a wide range of applications, including natural stone and recycling, the Mobirex MR130(i) PRO – with an hourly output of up to 600 tonnes – meets the requirements in the high-performance processing segment. This has been achieved via a heavy rotor and powerful electric 250kW drive, along with the machine's continuous feed system (CFS).
The optional large double-deck secondary screening unit allows aggregate producers to produce two classified final grain sizes. Final product quality is optimized by the use of an optional wind sifter which removes contamination in the processed material (eg wood, plastic etc.).
The operation of crushing plants is becoming more sophisticated and digitally advanced, and Kleemann's SPECTIVE CONNECT on the Mobirex MR 130(i) PRO allows key plant data and process information to be displayed on a smartphone without the operator having to leave the cab of the excavator or wheel loader. This leads to reduced downtime, higher productivity, and, potentially, increased profitability for fleet operators and aggregate producers.