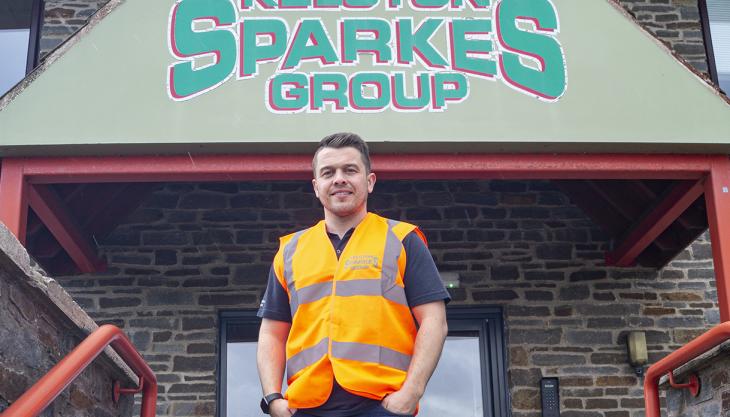 Company now has 18 Bell 50-tonne articulated dumptrucks operating at Torr Works in Somerset
BASED in the south-west of England but working throughout the UK, Kelston Sparkes Group's five-year contract at Europe's largest limestone quarry – Torr Works in Somerset – has seen them become the largest user in Europe of Bell Equipment's flagship 50-tonne articulated dumptruck (ADT).
Today the company owns 18 Bell B50Es, which work together at the quarry to facilitate the extraction of up to 7 million tonnes of aggregate per year.
The first Bell unit was purchased by Kelston Sparkes Group in 2014 when the company upgraded five of its existing 40-tonne fleet for four B50Ds – essentially matching the existing production rate with one less machine, thereby reducing on-site traffic.
Namesake and grandson of the company's founder, Kelston Stark (pictured) has been working at the firm for nine years and manages the machine fleet. He said: 'It was my father, Rob, our financial director, who initially spotted the opportunity to increase productivity by buying larger capacity dumptrucks and he negotiated the first deal for four units. As a company, we immediately noticed the fuel efficiency of the Bells – the B50D's had similar fuel consumption to the competitive brand of 40-tonners even though they were carrying more aggregates.'
In 2016 two more units were added to the fleet and this time the company switched to the E-series featuring the Tier 3 engine, which improved fuel consumption even further and reduced emissions. Over the next two years a further eight B50Es were added to the fleet and each time older 40-tonne units were swapped out.
According to Mr Stark, the 50-tonne ADT is a specialist piece of kit and suitable for particular sites: 'There aren't many quarries the machine is suitable for, but it is ideal for Torr Works. Our experience with Bell was so good that we decided to consider the slightly smaller B45E for our other quarrying projects. We took the first unit in 2019 and four more the following year. We're currently up to 10 B45Es, so it's fair to say it's proved itself as capable as its 50-tonne counterpart.'
All ADTs in the Kelston Sparkes fleet are kept for five years and turned round once they have 10,000h on the clock. Bell Equipment plan for this cycle and work proactively with Kelston Sparkes to ensure machine availability. Full service and maintenance contracts were originally specified on the ADTs because it was a new machine, and the company was learning its strengths and weaknesses.
As Mr Stark acknowledged, 'there were few weaknesses', but the aftercare arrangement worked so well that it continues to date. At the Torr Works site a full-time Bell Equipment service engineer is in place to maintain the ADTs and respond to any issues quickly and efficiently.
Each ADT specified by Kelston Sparkes features a tyre pressure monitoring system which alerts the engineer via text message to check for reduced tyre pressure. This allows a swift response and eliminates the wait for a middleman to rectify any issue. The monitoring system has helped to extend tyre life by always ensuring the correct working pressure.
Every Bell ADT is also specified with [email protected] Premium. It is used daily by Kelston Sparkes Group to monitor their machines and make informed decisions, as Mr Stark explained: 'Our aim is to move more stone for less money, and to this end we use [email protected] to analyse full load count, cost per tonne, and litres per tonne; we even match what's been blasted to what's been moved.
'It's an intuitive system that outputs usable data that helps us identify efficiencies. From the off, the safety features and technology in the Bells were superior to other manufacturers, including the inclinometer, and this remains the case today.'