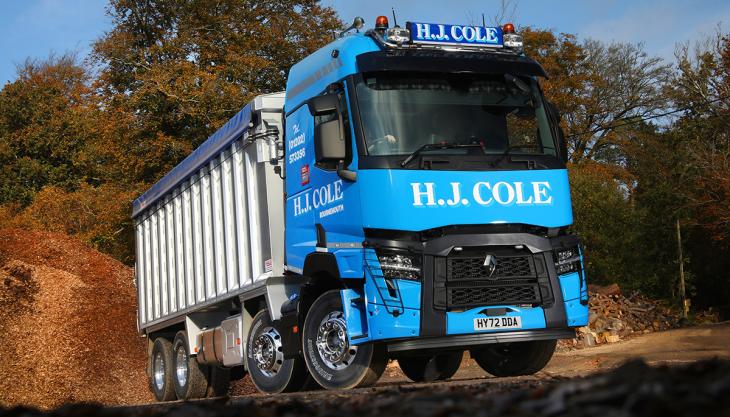 South-coast-based bulk haulage company goes back to Renault Trucks for latest fleet addition
BOURNEMOUTH-based bulk hauliers HJ Cole Haulage Ltd have added a Renault Trucks C460 8x4 to their five-strong fleet. The close proximity of the dealer and previously positive experiences of Renault Trucks were the key drivers in the new vehicle selection.
Supplied by Sparks Commercial Services, the new C460 has an Aliweld bulk tipping body and carries some aggregates as well as animal feed and woodchips, predominantly across the south of England as well as across the rest of the UK.
HJ Cole Haulage owner Keith Trickett said: 'We used to run Renault Trucks and we always found them to be good, reliable vehicles. In more recent years we had moved the fleet to a competitor manufacturer but, when local Renault Trucks salesman Rob Coxon, from Sparks Commercial Services, got in touch, I thought we would have another look. Business has remained stable and I like to replace the trucks every five years, and the C460 looked like a good fit for our operation.'
Inside, the new C460 with sleeper cab has been specified with driver comfort in mind, with four-point cab air suspension, luxury driver's seat, 'ultimate' leather steering wheel, memory foam mattress topper, fridge, storage lockers and ROADPAD+. Outside, the striking blue truck is equipped with Alcoa Dura-Bright aluminium wheels and two roof-mounted air horns.
Commenting on the driver's reaction to the latest vehicle selection, Mr Trickett said: 'The driver is delighted; he likes the spacious cab, automatic gearbox and engine performance. Back in the day he drove a Renault Trucks Lander, then swapped to a competitor manufacturer's vehicle and has now come back home to Renault Trucks. He is very happy.'
The opening of a new Sparks Commercial Services depot in Poole, in close proximity to HJ Cole's base, prompted a renewed interest in Renault Trucks as Mr Trickett explained: 'Having a Renault Trucks dealership offering first-class truck servicing up the road from us was very appealing, and the salesman, Rob Coxon, has been great to deal with.
'For peace of mind and to ensure maximum uptime for our new vehicle, we've taken out a five-year repair and maintenance contract too. I am very happy we've come back to Renault Trucks.'