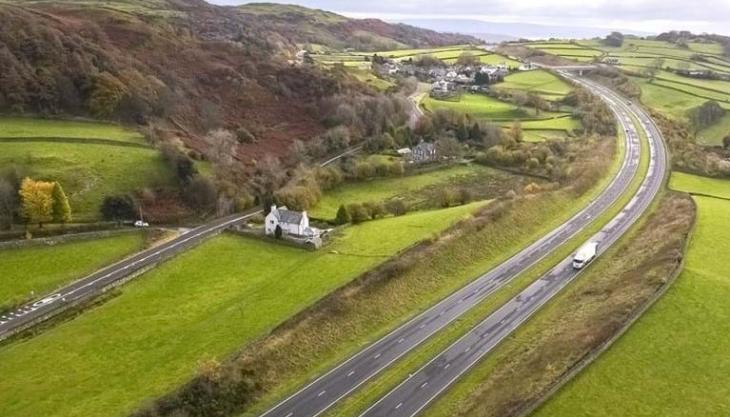 Ambitious plan aims to deliver net-zero strategic road network maintenance and construction by 2040
HIGHWAYS England has today (20 July) announced an ambitious new carbon plan that aims to rapidly cut carbon from road construction, maintenance and operations, and support the transition to zero-emission vehicles.
From today, Highways England says it will be taking immediate and sustained action towards decarbonizing England's motorways and A-roads, so it can continue to bring significant benefits to motorists, communities and businesses in a net-zero future.
Building on the organization's work reducing carbon since 2015, the new plan sets out a comprehensive roadmap to rapidly decarbonize the strategic road network.
Highways England says it aims to achieve this by putting roads at the heart of Britain's net-zero future through three key commitments:
Achieving net zero for its own operations by 2030
Delivering net-zero road maintenance and construction by 2040
Supporting net-zero carbon travel on its roads by 2050.
Contractors and suppliers will also be required to act, including commitments to reduce carbon year on year by using the latest technologies, so that by 2040 road maintenance and construction in England will involve near-zero emissions.
Nick Harris, acting chief executive of Highways England, said: 'Highways England recognizes the threat of climate change and the risks it poses for us all. That's why we're pledging to take effective action to take carbon out of roads.
'Today roads are a convenient, efficient and low-cost way to travel which is why nine out of 10 passenger miles and 79% of all freight moves on roads. Our plans set out how emissions from our own operations, our construction and our customers will reduce over the coming years.
'It will put roads at the heart of the low-carbon economy, while preserving the convenience and economic benefit of an efficient road network.'
Among the action Highways England will be taking to achieve net zero, all construction and maintenance activities carried out on the strategic road network will need to be net zero by 2040, with a zero-carbon 2040 roadmap for cement, concrete and asphalt to be developed by June 2022.
Commenting on the plan, Rick Green, chair of the Asphalt Industry Alliance, said: 'These are ambitious targets and trajectories, but the asphalt industry is committed to playing its part in reducing emissions and supporting the UK Government in meeting its climate change goals.
'Our members look forward to continuing to work with Highways England and contributing to delivery of its net-zero plan for the strategic road network. This will also provide benefits for our local roads – which represent 97% of our network – by indicating a blueprint to help local authorities meet their own net-zero-carbon ambitions.'