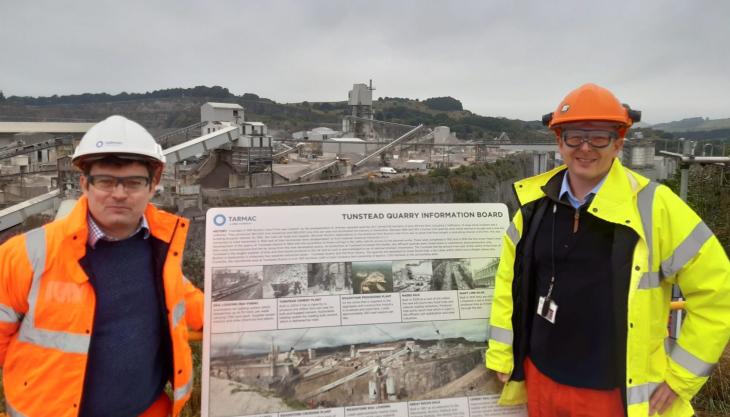 Tarmac's Tunstead Quarry in Derbyshire recently welcomed Robert Largan MP to the site
TARMAC's combined operation at Tunstead, near Buxton, in Derbyshire, is one of the largest of its kind in the UK, with a mix of quarrying, cement and lime manufacturing, and building material production taking place at the site.
The quarry was established in the 1920s and is of national strategic importance as the largest supplier of lime and lime-based products within the UK. It is also one of the largest employers in the local area, employing around 400 people across the site.
During his visit, Mr Largan was shown around the quarry and cement operation, and gained an insight into the latest technology being used in lime, stone, and cement production. He also visited the rail freight facilities which allow a large percentage of the products to be distributed by rail, reducing road traffic from the site. 
The MP met with several members of the site team including David Wilson, lime business development manager, and Tarmac's head of rail, Chris Swan. Lime business director, Graham Cooper and cement plant manager Alex Soria hosted the visit, which emphasized the importance of the operation to the local economy and provided the MP with an update on latest developments.
'Whilst most local people have an understanding of the quarry and cement-making parts of our operation, there is less awareness of the role our lime operation plays, so it was important we included this in Mr Largan's visit,' said Mr Cooper.
'Our lime products are used in vital applications such as electricity generation, water treatment, soil stabilization and steel manufacture. Whilst lime kilns have played a role in the industrial heritage of this area for hundreds of years, we were pleased to talk the MP through all the latest technological innovations we are using on site.'
Mr Largan was also introduced to a ground-breaking project exploring the use of two innovative energy sources in the production of cement and lime. The project, sponsored by the Department for Business, Energy and Industrial Strategy (BEIS) and managed by the Mineral Products Association (MPA), involves the trial of different fuels to reduce carbon dioxide (CO2) emissions.  
Commenting on his visit, Mr Largan said: 'I was very pleased to visit Tarmac's Tunstead site, to tour the operation and discuss Tarmac's decarbonization plans for the future. Tarmac are not only important local employers in the High Peak, but Tunstead Quarry is also of vital significance to the country as a whole.'