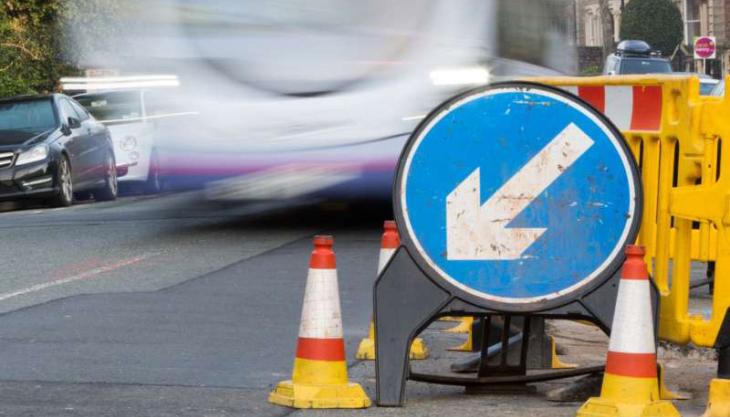 Annual Local Authority Road Maintenance survey reports one in five local roads now classed as structurally poor
IT would be possible to drive almost around the world on the length of roads in England and Wales that could fail if they are not fixed in the next 12 months, according to this year's Annual Local Authority Road Maintenance (ALARM) survey, published today (20 March 2018).
Cash-strapped local authorities report that more than 24,400 miles of road have been identified as needing essential maintenance in the next year.
The annual ALARM survey, produced by the Asphalt Industry Alliance (AIA) and now in its 23rd year, is widely respected throughout industry and local and national government as the most authoritative and comprehensive study into local road maintenance funding and condition.
This year local authorities in England and Wales report that the gap between the funds they received and the amount they actually needed to keep the carriageway in reasonable order was almost £556 million – a shortfall of £3.3 million for every authority.
It would now take 14 years to get local roads back into a reasonable steady state, provided adequate funds and resources were available.
Key findings of the ALARM Survey 2018 include:
92 years – average time before a road is resurfaced in England (31 years in London; 71 years in Wales)
£9.31 billion – estimated one-time cost to get roads back into reasonable condition (72.3 million per authority in England; £14.6 million in London; £27.4 million in Wales)
£3.4 million per authority – average annual carriageway maintenance budget shortfall in England (£3.0 million in London; £3.1 million in Wales)
14 years – time needed to clear the backlog across local authorities in England, Wales and London (13 years in England, nine years in London; 24 years in Wales)
1.3 million – number of potholes filled in England (60,100 in London; 131,500 in Wales)
£19.5 million – total cost of road-user compensation claims in England (£8.2 million in London; £590,000 in Wales)
North/south divide – local authorities in the North are responsible for maintaining 45% of the network but receive, on average, two thirds of the overall highway maintenance budget of those in the South (average £19.32 million in the North, £26.95 million in the South).
Rick Green, chairman of the AIA, said: 'Although local authorities report an increase in average highway maintenance budgets this year, looking back over the last decade they have barely kept in line with inflation.
'This is reflected in road condition, with one in five of our local roads now classed as structurally poor – with less than five years' life remaining – compared with one in six reported last year.
'Local roads are a vital asset, worth in the region of £400 billion, and they support all aspects of our daily work and home lives. But funding for their adequate maintenance has fallen short for so many years that further deterioration is inevitable.
'We accept that there is no magic wand to wave, nor is there a bottomless pot of money to tap into. There are difficult choices to be made at both local and national level, but the Government needs to provide adequate funding for a well-maintained and safe local road network if it wants to support communities and drive economic growth.'
Councillor Martin Tett, transport spokesman for the Local Government Association (LGA), said: 'Careful and efficient management of our roads by councils has seen some progress being made into tackling the backlog of road repairs. However, increasing traffic levels, and more cars on our roads, together with continuing extreme winter weather conditions means that government needs to keep funding of local roads as a priority in its spending plans.
'It is wrong that funding for local roads is miles behind that of the strategic road network. Very few journeys begin and end on a motorway or trunk road, yet government funding on the strategic road network is 52 times higher than for local roads. Spending more on improving our national roads will only serve to speed vehicles up between increased delays and congestion on local roads.'
He continued: 'The LGA has been calling on the Government to reinvest 2 pence per litre of existing fuel duty into local road maintenance, which would generate £1 billion a year for councils to spend on improving roads and filling potholes, and begin addressing the £9.31 billion roads repair backlog.'
'Only long-term and consistent investment in local road maintenance can allow councils to embark on the widespread improvement of our roads that is desperately needed, to the benefit of all road users up and down the country, including cyclists.'
Roger Geffen, policy director at Cycling UK, said: 'As well as being hugely aggravating for drivers, potholes can seriously endanger cyclists and can even prove fatal. The Government is spending vast sums on new motorway and trunk road capacity, while leaving local streets to rot.
'Given its ambitions to improve the nation's health, tackle congestion and pollution, and improve the safety of our streets, the Government needs to fundamentally rethink the balance of transport funding, devoting far more to maintaining and improving our local streets so that people can walk and cycle in safety.'
A copy the full ALARM Survey 2018 can be downloaded below.