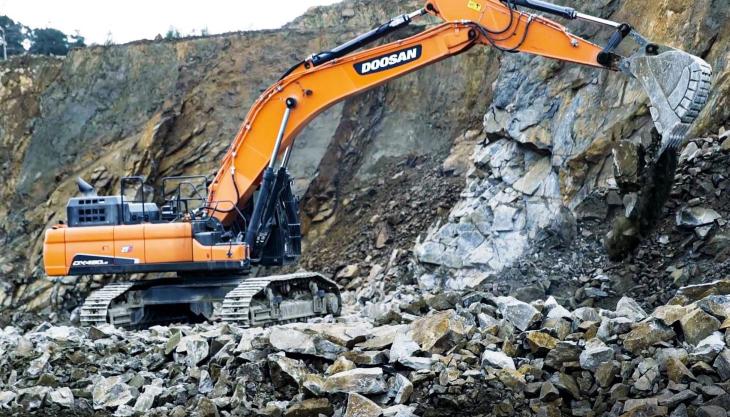 Czech company relies on fleet of Doosan wheel loaders and excavators in its hard rock quarries
  
GRANITA Lomy, one of the key players in the quarrying and sale of crushed stone in the Pardubice region of the Czech Republic, own and operate six hard rock quarries and rely on a fleet of 11 large Doosan machines across their operations.
The company bought its first Doosan machines in 2019 – a large DL550-5 wheel loader and a DX380LC-5 crawler excavator, which serves as a hydraulic hammer carrier to prepare large pieces of stone for loading using the loader.
Both machines work in the company's Chvaletice Quarry, where the wheel loader has completed more than 4,000 hours. Based on this performance, GRANITA Lomy decided to purchase additional Doosan machines and now have a total of 11 Doosan units at their disposal, five of which are based at Chvaletice.
Last year, the company added a DX380LC-5 excavator and a larger 50-tonne DX490LC-5 excavator to the fleet at Chvaletice, where large wheel loaders, including the original DL550-5, work in tandem with the new excavators.
Supporting the DL550-5 is a Doosan DL420CVT-5, purchased at the end of 2019, which has completed more than 3,000 hours. Equipped with a continuously variable transmission (CVT), it can automatically transition from hydrostatic power at low speed to the mechanical system at higher speeds, achieving fuel savings of up to 25%.
'It's a pleasure to work with our latest addition, the larger DX490LC-5 excavator,' commented plant manager Tomás Dunda. 'With its three cubic metre bucket, it's a real boost and has made the quarrying operation much more efficient. The power and reliability of the excavator have been amply demonstrated.'