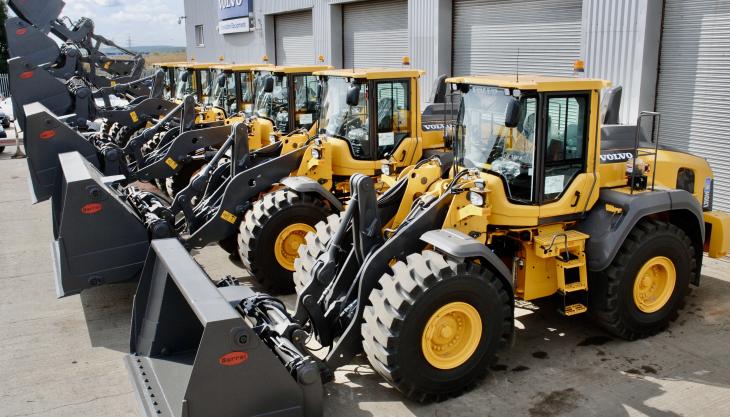 Bristol-based plant hire firm takes delivery of 42 new Volvo wheel loaders ranging from 8 tonnes up to 34 tonnes
GORREL Equipment Solutions have recently taken delivery of 42 new Volvo wheel loaders ranging from eight tonnes up to 34 tonnes in operating weight and ordered as part of a fleet renewal/expansion programme.
The new deliveries include: three L45Hs, four L90Hs, eight L90H LBs, five L110Hs, 13 L110H LBs, four L120Hs, an L120H LB, three L150Hs and an L180H High Lift. With this latest order, two-thirds of the Gorrel Equipment Solutions fleet now consists of Volvo machines.
Commenting on the order, general manager Nigel Chilcott said: 'It works well for us in the hire industry to have a premium-brand product. It gives us the reliability we need, and the backup is great. We also get the residual value at the end of the machine's life, so it all works well for us.'
To meet the high level of versatility and adaptability required by their plant hire customers, Gorrel Equipment Solutions have had quick-couplers fitted to all of the new machines. The inclusion of this optional extra ensures that switching between the wide array of attachments offered alongside the new machines is as fast and straightforward as possible.
The machines have also been equipped with automatic reversible engine fans, which prevent dust and debris from damaging the machines' air-intake systems, allowing the machines to be used in waste-handling applications with the minimum of downtime.
Other features which come with the new machines as standard include the latest generation of OptiShift, which improves fuel efficiency by up to 20%, as well as the Volvo Eco pedal, which encourages the operator to run the machines at their optimum rev/min in the engine's torque curve, thus further enhancing fuel savings while reducing wear.
All of the new machines are powered by Volvo's latest Stage V engines and also benefit from Volvo-designed and manufactured driveline components, providing considerable further fuel savings with each shift.
The new wheel loaders also come, as standard, with Volvo's CareTrack telematics system, which allows remote monitoring of machine functions, such as location, fuel consumption and service reminders. In addition, Gorrel Equipment Solutions opted for a bespoke service agreement, ensuring that their maintenance staff use only genuine Volvo parts and oils.
Gorrel were established in 1985 and have been part of the Walters Group since 2011. Bristol-based Gorrel Equipment Solutions – one of the largest plant rental companies in the UK – specialize in providing customers with bespoke and flexible nationwide plant hire services and support a wide variety of industries, including quarrying, aggregates, waste and recycling.