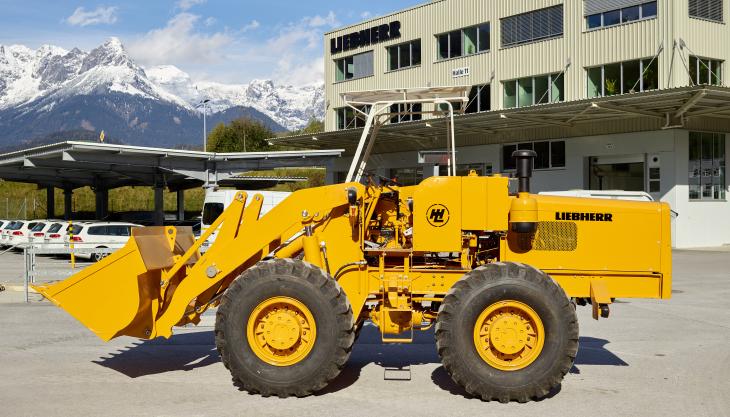 Liebherr restore last remaining example of 60-year-old wheel loader prototype: the LSL 1500
ALMOST 60 years after its debut, Liebherr have restored one of the first wheel loader prototypes from the corporate group's early years: the LSL 1500. This specimen is the oldest preserved Liebherr wheel loader in existence and the company has invested around 650 working hours in the restoration of the vintage machine, which now forms an exhibition piece in the Liebherr Bischofshofen factory.
'When developing wheel loaders, we deal with the latest technologies and trends on a daily basis. However, we also respect our roots, and this wheel loader shows that Liebherr were getting innovative machine concepts off the ground even six decades ago,' explained Martin Gschwend, managing director of the Bischofshofen plant.
The LSL 1500, which dates  from the early 1960s and is the only remaining example of a pilot series of only five machines, had a very full life, working at a gravel plant and then for a logistics firm for around 40 years until, at the beginning of the 2000s, Liebherr took the decommissioned prototype back and preserved it.
This, however, was not the end of the story for the historic machine. In 2019, Liebherr-Werk Bischofshofen GmbH decided to fully restore the LSL 1500, as the ravages of time, particularly in the form of rust and frost damage, had taken their toll on the machine.
The project began in the spring of 2020 at the Bischofshofen plant, where wheel loader experts refurbished each individual part of the LSL 1500 down to the last screw. 'It was a splendid moment when we heard the powerful six-cylinder diesel engine running for the first time,' said Andreas Scharler, who ran the repair centre for many years.
In the 1950s, Liebherr were already experimenting with wheel loaders, a type of machine still in its infancy and underdeveloped at the time. The company's first two prototypes, the 'Elephant' and 'Mammoth' models, had to cope with excessive tyre wear and only modest traction.
Bn the early 1960s, however, Liebherr had created a reliable wheel loader prototype with the LSL 1500 model. Weighing around 10 tonnes, the 108hp machine had a rigid frame and hydraulically supported rear-wheel steering, which was luxurious for the time. The load transmission was achieved by a torque converter and a four-wheel drive, which could optionally be switched off.
The new kinematics on the LSL 1500 provided a dumping height of around 3m, allowing the loading of high-sided construction vehicles. For adverse weather conditions, an all-weather cover with sewn-in transparent windows and heating was available for the operator's platform, which was still open at that time.