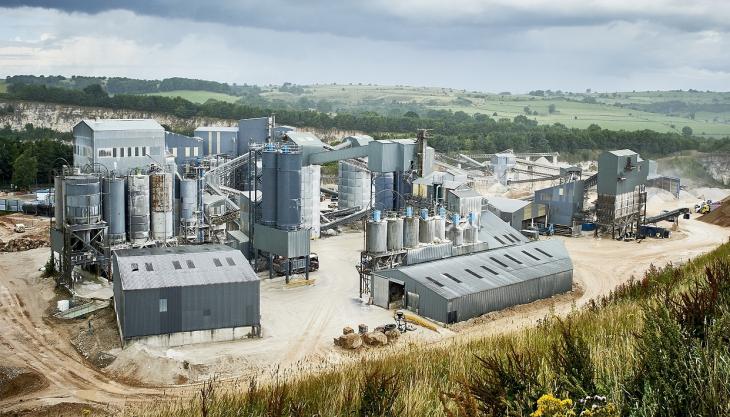 Longcliffe Quarries make local business relationships a priority, as is the case with blast specialists EPC-UK

CONTINUING their commitment to supporting local economies and communities against the backdrop of COVID-19, independent limestone and dolomite suppliers Longcliffe Quarries have forged an even closer working relationship with fellow Derbyshire-based firm EPC-UK, to continue their programme of safe, socially distanced mineral production.

Brassington Moor Quarry, near Matlock, has been classed as a frontline operation since the COVID-19 outbreak as its calcium carbonate products are used within pharmaceuticals, water treatments and animal feeds. To perform essential blasting procedures safely and successfully in light of recent circumstances, the quarry has continued to rely on the specialist services of Alfreton-based blasting experts EPC-UK.

Originally opened in 1927 and still owned and operated by its original proprietors, the Shields family, the quarry now has 174 employees and has always played a responsible role in supporting its surrounding community and related economies, as Longcliffe Group managing director Viv Russell explained: 'Rather than engage the services of national subcontractors, Longcliffe have consistently chosen to work with local companies and suppliers and only procure goods from within a 40-mile radius of our quarry site.

'The recently introduced COVID-19 safety measures have meant this ethos is more relevant to business success now than ever before. We believe our commitment to local partnerships works to support the local economy, strengthen relationships, benefit employment and reduce transit inefficiencies. Our family-operated status gives us the opportunity to continue exercising executive preference regarding local supplier choices and build upon the relationships we believe reinforce our professional, customer-orientated offering.

'The outbreak has presented challenges for us all. For Longcliffe Quarries, it's created a situation that has required us to pull together and show fortitude; supported by supplier companies with the resolution and professional approach of commercial blast specialists EPC-UK.'

EPC-UK have a long-standing relationship with Longcliffe Quarries, which was formalized earlier this year. Chosen by the quarry for their reputation and quality of product, EPC-UK are widely regarded industry experts, successfully supporting the mining, cement and aggregate industries in the local area.
The company's depth of experience is further enhanced by a focus on operational safety and competency, which is categorically placed as its number one priority. Currently ensuring all social distancing guidelines are firmly adhered to within the operating environment, EPC-UK provide explosives and blasting accessories to Longcliffe Quarries, allowing them to continue to successfully extract limestone for production into high-quality aggregates, granules and fine powders.

'We feel privileged to have been considered a key supplier to Longcliffe Quarries and recognize and appreciate the reliance placed on us to perform vital operations appropriately during the COVID-19 period,' said Ben Williams, managing director of EPC-UK.

'By working to 'one vehicle to one person' regulations, cleaning equipment thoroughly before and after use, fitting Perspex screens within vehicles and applying virtual sign-in and sign-out protocols to minimize contact, we're helping to protect the employees of the Longcliffe Quarries and EPC-UK teams, as well as the wider community each interacts with.'

Having rigorously implemented social distancing guidelines across his company since the beginning of the pandemic, Mr Williams goes on to explain that all EPC-UK's operations, both on and off site, have transferred to virtual means wherever possible and that when person-to-person contact is unavoidable, social distancing is strictly adhered to.

'We're living through continually changing times, which makes the need for local companies to support each another and sustain the regional economy, imperative,' he said. 'Together we can work towards encouraging job security, strengthening relationships and building upon existing levels of trust that will benefit businesses now, as well as in more consistent times to come.

'I echo the view that by pulling together, safely and with our customers' needs positioned first and foremost, we'll be rewarded with the opportunities to continue our essential work for the foreseeable future and protect our valued local economy.'