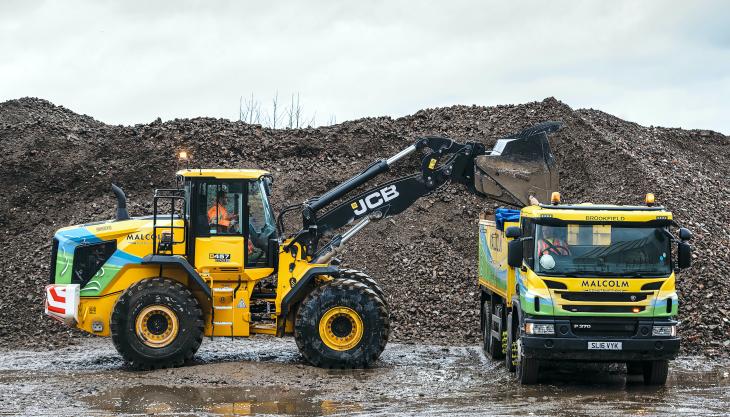 Fleet of 29 new JCB machines for Malcolm Group, including a Stage V 457 wheeled loading shovel
THE Malcolm Group have taken delivery of 29 new JCB machines – including the first Stage V 457 wheel loader in Scotland. The Linwood-based logistics and construction services specialists have purchased the JCB 457 along with 131X and 220X tracked excavators and backhoe loader, Teletruk, Loadall telehandler and wheeled excavator models.
Supplied by dealers Scot JCB, the new 457 has been updated to meet the upcoming EU Stage V emissions legislation. The move from the previous MTU engine to Cummins brings an increase in overall engine power, from 192kW (258hp) to 210kW (282hp).
Malcolm Group's chief executive officer, Andrew Malcolm, said: 'We choose JCB machines because of the fuel efficiency which not only reduces the operating costs for us as hirers, but also benefits our customers by reducing their site costs.
'We have operated many JCB 13-tonne excavators and 457 wheeled loading shovels over the years and found them perfectly suited for a range of site purposes. Enhanced operator comfort, vision and smoothness of operation are the standout features of these new machines.
'Our service from Scot JCB has always been first class. They provide extensive coverage, and back-up across Scotland with an excellent parts service. They understand our requirements and are always striving to excel in their service. As a provider of hired machines this ensures our customers' needs are met and contributes to the smooth running of a hire fleet.
'JCB LiveLink is also an excellent tool. Not only does it provide up-to-date machine hours to enable regular servicing to be maintained, it also provides all machine usage and idling details to allow the management team to monitor the operatives' use of the machine and helps in the provision of ongoing training to raise operator standards.'
The new JCB Stage V 457 wheeled loader benefits from a number of new and innovative features including a 9% more powerful and efficient Stage V Cummins engine and a new fuel-saving auto engine-shutdown feature. A five-speed transmission is fitted as standard and there are two new power modes for greater versatility as well as one of the most operator-friendly cabs on the market.
Malcolm Group were founded in 1921 as a family-owned business and are now one of the leading providers of logistics, construction and maintenance services in the UK, including plant hire, tipper hire, quarrying, waste management and recycling.